Instagram is a social media platform for sharing photos and short stories with over 1.4 billion monthly active users. Thanks to focusing on photo quality, Instagram has become one of the strongest social media networks for traffic volume. Besides, having a large number of Instagram accounts helps you boost interaction rate and move your brand accounts to a higher level. Also, by getting more bulk accounts with target countries, you are able to get sucess in promoting your products & services and reach your desired audience. Luckily, Instagram Account Creator Bot lets you creates unlimited accounts with optional countries. 
What are benefits to purchase Instagram Account Creator Bot?
Provides thousands of devices and emulators to create unlimited accounts.
Auto change different IPs to get bulk accounts and protect them from being locked out. 
Use generated cookies immediately without re-login. 
Expand your audience: With 500 million Daily Active Users and multiple IG accounts, you are able to reach a wider audience and enhance your brand's presence on Instagram. 
Diversification: Using multiple accounts to do marketing helps diversify your content, marketing strategy and rapidly get more organic engagement.
Make a lot of money: Once you reach thousands of interactions using your large number of accounts, you quickly achieve your marketing goals and raise your earnings.
Here is all the parameters and features of the software: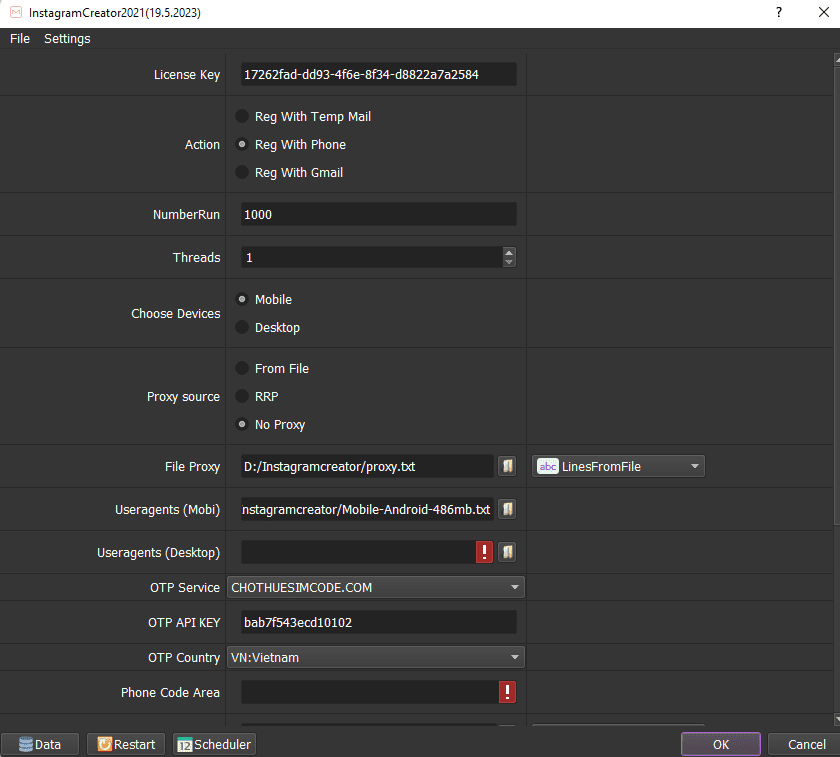 Instructions for using Instagram Account Creator Bot: 
I. General Settings – Instagram Account Creator Bot
1. License Key, NumberRun, Threads, Useragent files
A. Get License Key
Enter your license key that is provided at qnibot. 

B. NumberRun
This is to set the number of accounts that you want the software to create successfully. For example, if you set 1000, the software will keep on running continuously until 1000 accounts are created successfully.

C. Threads
Threads represent the number of tabs, browsers that are performed concurrently. This setting is based on your computer configuration. The stronger CPU of your PC is, the more windows you are able to run, as well as the more accounts you are able to get. For example: you can set 40 threads in maximum with a device of RAM 8GB and core i5: 

D. Useragent files (Destop & Mobile)
Useragent files will be attached in the download link that you get after purchasing the bot, there are more than 50,000 emulators in each file. If you want to use Mobile devices to create accounts, then you choose Mobile at Choose Devices field and then add Mobile file to the software. And vice versa, please do the same with Destop device. 

2. Proxy source – Instagram Account Creator Bot
There are 3 options for proxy source:

2.1. From File
First, import your proxy into txt file. Each proxy shalll be entered line by line with a specified format: IP:Port:Username (if any):Password (if any). For some proxies assigned to an IP, you need IP:PORT only without username and password.

Next, choose Lines fromFile and select the icon

to put the proxy file into the software at File proxy field.

If you use proxy link, then you choose LinesFromURL and paste the link to the software as shown:

2.2. RRP
At Proxy source field, select RRP. RRP is a residential rotating proxy with 95% of US IPs. This proxy is widely used by thousands of our clients from multiple countries around the world. It helps you create US bulk accounts successfully. To get it, visit saferproxy.com for more information.
2.3. No Proxy
If you want to use your IP to create accounts, then you choose No proxy. Keed in mind this option should be used to create 1-3 accounts or for testing purposes; otherwise, your accounts may be banned. 
3. First Name, Last Name, Password, Username Ending

First name, Last name and Password: Select RandomString at Firstname and Lastname, the software will create Instagram accounts with First Name and Last Name as default.
Otherwise, you can click on

  icon, then import specified FirstName, Lastname, Password and click on @Test to preview them as shown below: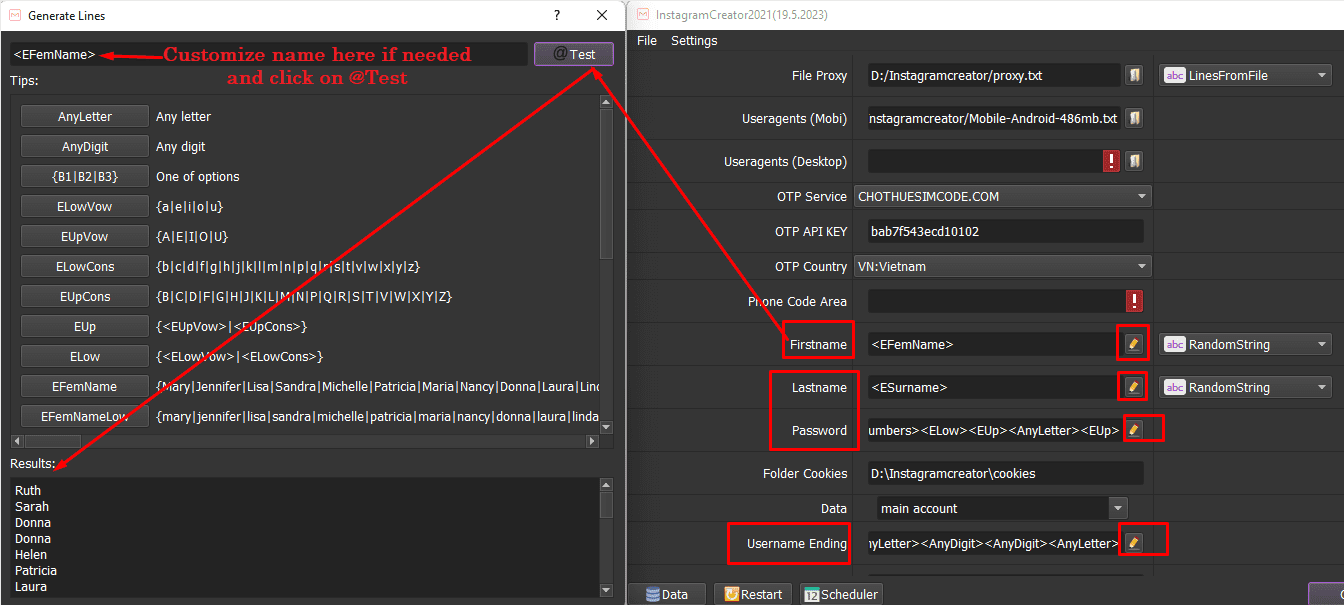 In case you want to use Last Name and First Name as per your need: Create Last Name and First Name files in a txt file and then select LinesFromFile at Firstname and Lastname and choose  to put them to the software.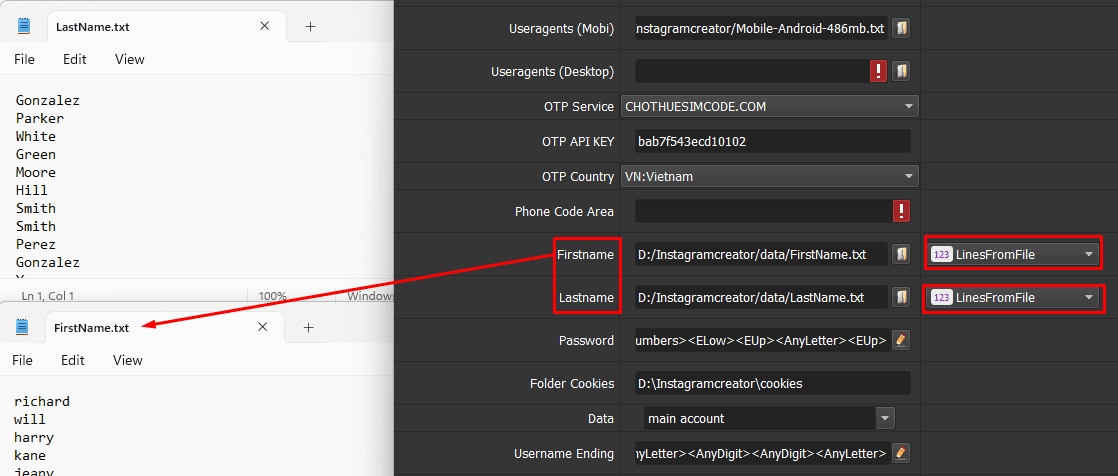 Select the icon   to preview Username Ending by clicking on @Test: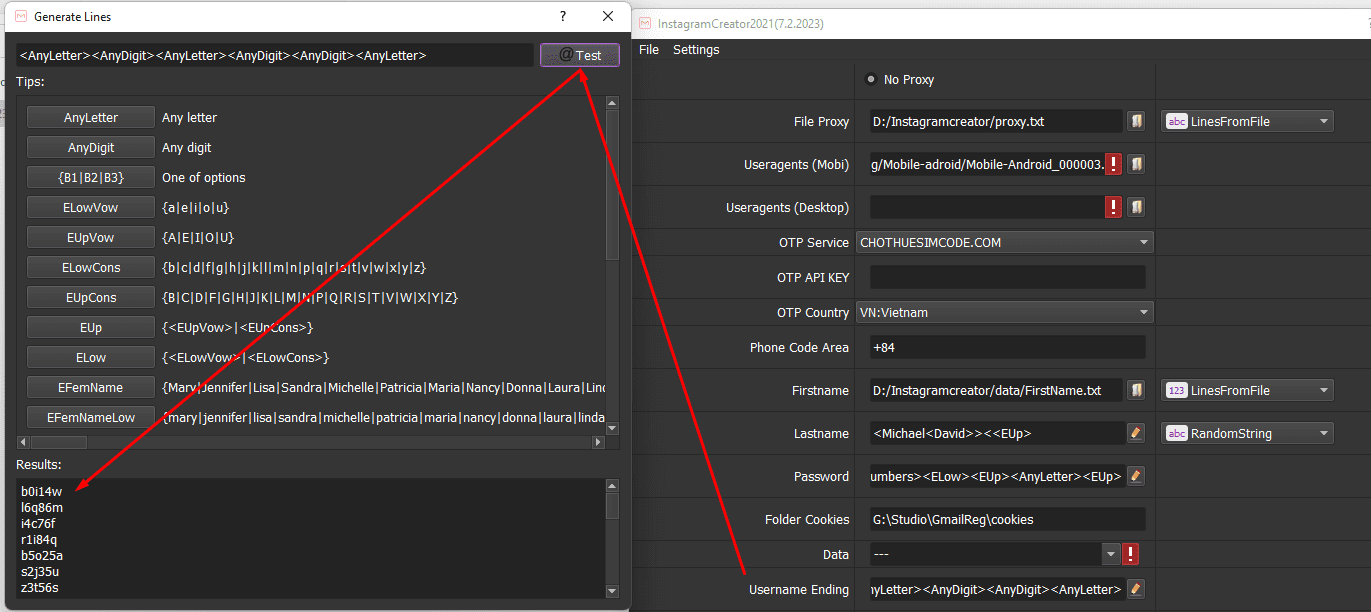 For example, you set First Name as Donna, set Username Ending as b0i14w, the Username of created accounts will be Donnab0i14w.
Note: The length of a Instagram account's username should be no longer than 30 characters.
4. Cookies folder
Create a new folder named cookies and then put the path to the bot:


5. Get 2captcha key
You need to register accounts at 2captcha.com and put your key to the software. Accordingly, if you choose to create accounts with your gmail accounts, the software will automatically solve captcha when it comes.

II. The best way to create IG accounts in buk – Register IG accounts with Phone verification
To increase your success rate and not be required for phone for the next run, you should create accounts with renting OTP.

In addition to completing basic settings as instructed in the above Section 2, you also need to establish following items:

For Instagram Account Creator Bot, CHOTHUESIMCODE.COM and 5sim.net are 2 OTP providers that are integrated in the tool.
If you want to register Vietnam accounts, then you rent OTP from CHOTHUESIMCODE.COM and get your API key at OTP API Key field. At Phone Code Area, leave it blank. 

And in case you want to create accounts from countries outside Vietnam, please choose 5sim.net. 
Take note of that the country of proxy must be the same as country of OTP. This helps you to create more accounts and protect your accounts from being banned by Instagram. 
Important Notes for phone code area – 5sim.net: 
If you choose Destop devices and 5sim.net, then you import "+" only at Phone Code Area.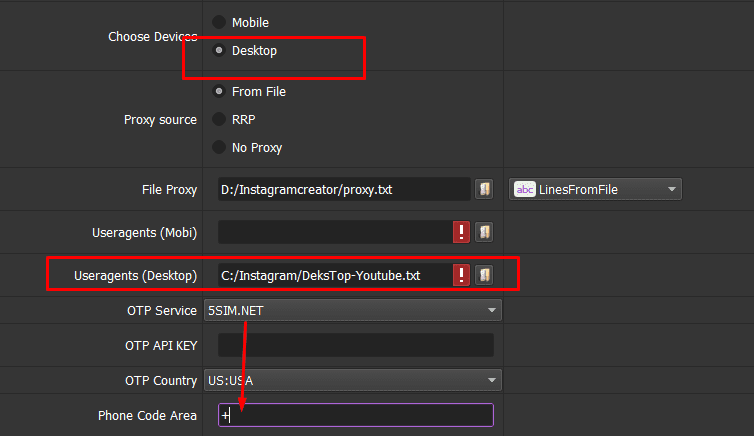 In case you choose to use Mobile devices, then you enter Phone Code Area only without "+" character, for example: set 1 for USA numbers, 44 for UK numbers, etc. 

Notable for OTP API Key – 5sim.net:
If you use 5sim.net to create IG accounts, then you choose API key (Deprecated API) after topping up your balance at 5sim.net: 

In addition, we also offer 2 other ways to create accounts for different purposes. Accordingly, you can create IG accounts using your gmail accounts or tempmail from the site.
III. Reg with Temp Mail and Reg with Gmail
1. Reg with Temp Mail
At Action field, choose Reg With Temp Mail.
Instagram creator software will automatically take tempmail from the web https://10minutemail.net/?lang=vi to create accounts. This site provides 10-minute tempmail accounts; thereby, you are able to use these accounts within 10 minutes. 
Also, to use this feature, you need to use Mobile devices (as shown in item 4 of Part I). 
Finally, check basic settings and click OK to run.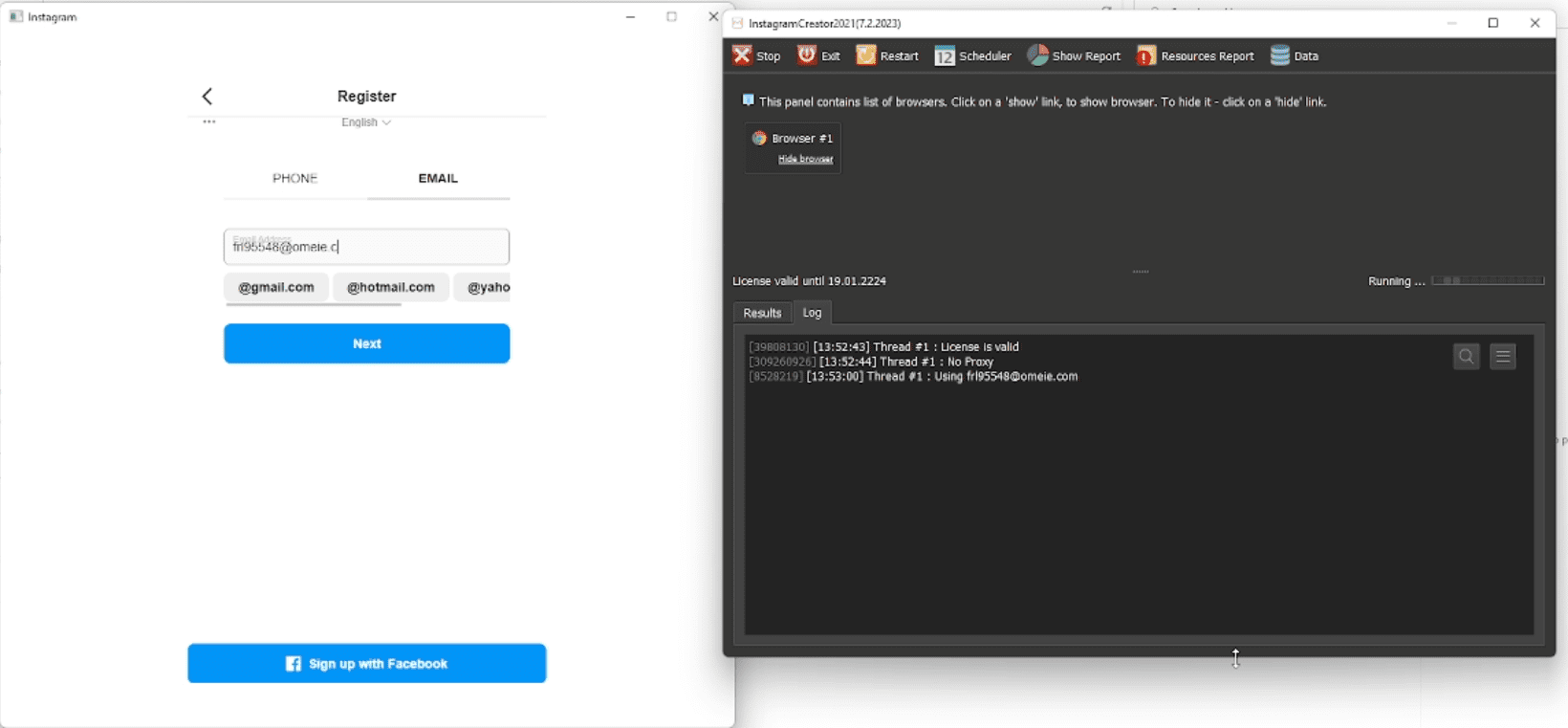 2. Reg with Gmail – Instagram Account Creator Bot
Similar to the above features, at Action field, choose Reg with Gmail.
You need to import the data including Gmail,password,recovery gmail,proxy and port (if you choose Proxy from Data). Or refer here to see how to import data in detail.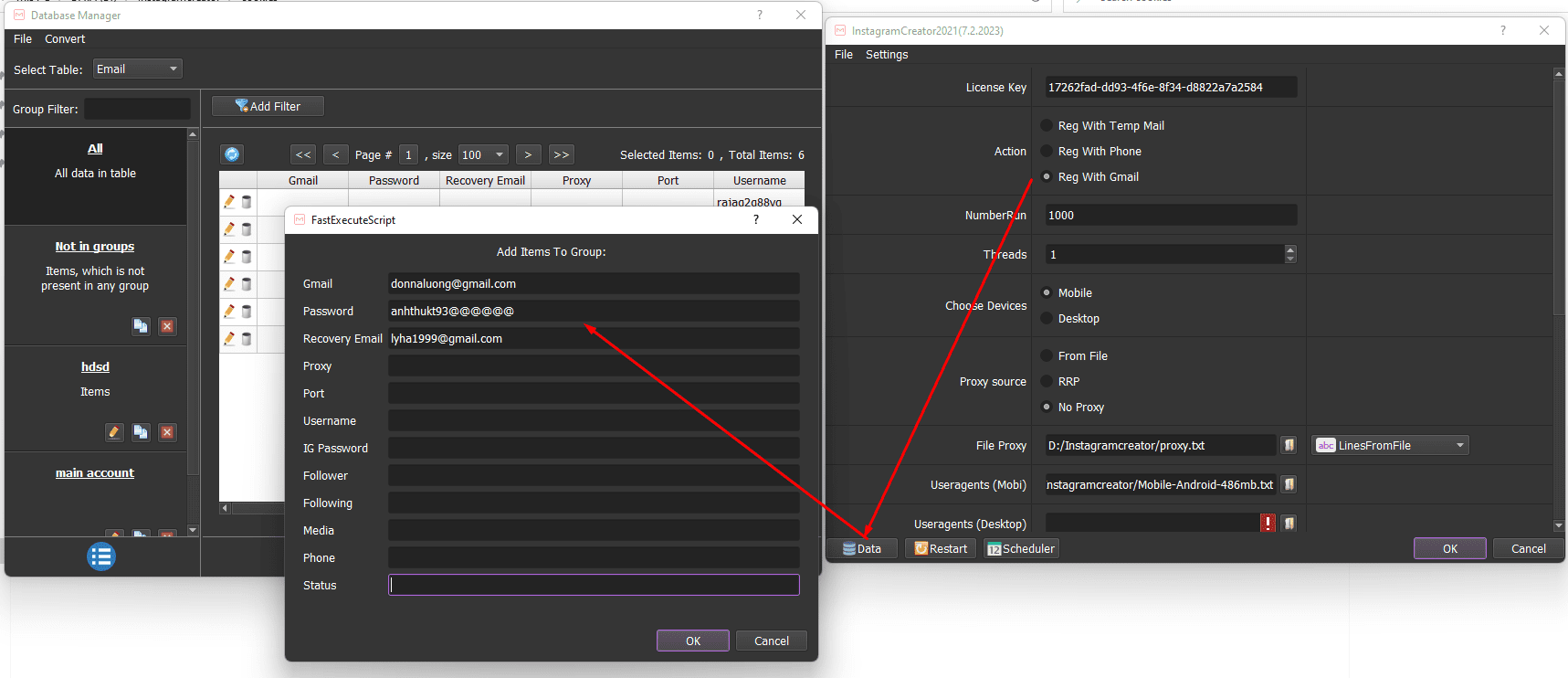 Finally, after adding your accounts to the software, check Group Data as shown below for the software to use properly.

IV. How to check browser and logs – InstagramCreator Software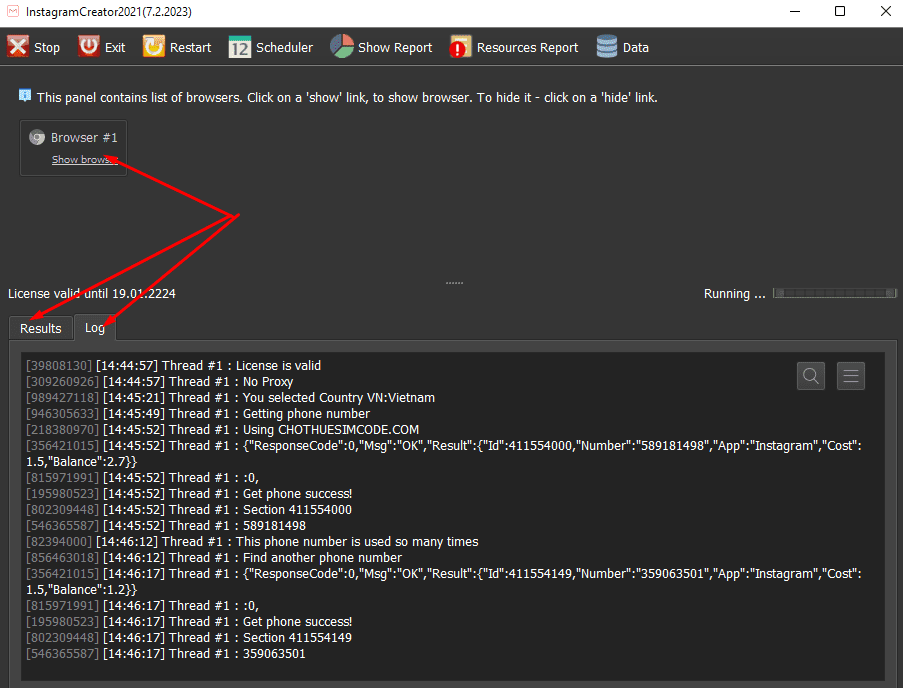 Open Browsers to follow up if your accounts are created successfully, check status update of the software at Log. 
After completing the process, you can get newly created accounts at Results section or Database Manager.

How much is Instagram Account Creator Bot? 
Thank you for following the post.
We appreciate your time. 
For more information, kindly contact us at qnibot.com