MultiBrowsers is a great tool that allows users to access unlimited web browsers on the same device. In addition, Multibrowser provides you with diverse browser properties, unique fingerprints, modified geolocation, and more, that helps you manage multiple profiles or tasks like on thousands of real devices, whereby saving a lot of time and effort. Whether you're a business owner, software tester or web developer or marketer, MultiBrowser helps you farm a large number of social accounts simultaneously, improve your productivity and dramatically reduce your workload.
Outstanding Properties of MultiBrowsers
Open or manage multiple profiles at the same time 
Farm social accounts or run ads effectively
Emulate thousands of devices in different types of browsers 
Use different IPs (https or socks5)
User friendly interface and easy to use
Instruction on managing multiple profiles using MultiBrowsers software
Here are all the parameters and settings of the MultiBrowsers: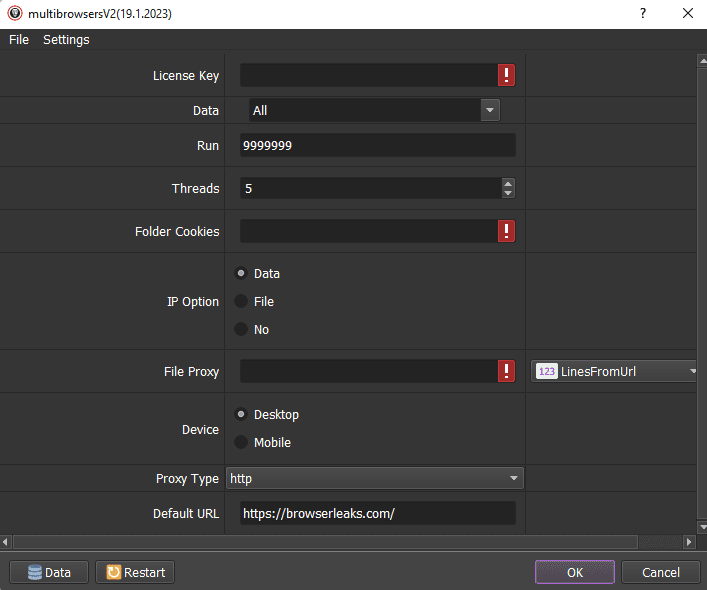 1. License Key
COPY the License Key at qnibot.com/license upon completing for payment: 

2. Run – Number of times to run
Set the number of runs depends on your need or you can leave it as the default of the software.

3. Threads – Number of browsers run parallelly
Depending on how your computer configuration is strong or weak, you can adjust the number of threads to run accordingly. For example: 1 device of 8GB RAM, core i5 can be used to run max 40 tabs simultaneously. 

4. Folder Cookies – Manage Multiple profiles
Create a folder named cookies and then put the path link on the bot at Folder Cookies field: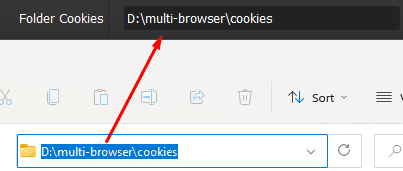 5. IP Option – Manage Multiple profiles
5.1. Data  
If you wanna use a different IP assigned to each profile, then you choose Data and add proxies with the format as: Profile,Proxy,Port,Proxy Username (if any),Proxy Password (if any).
Click on Data to open Database Manager dialog box and see Instruction on how to import data more.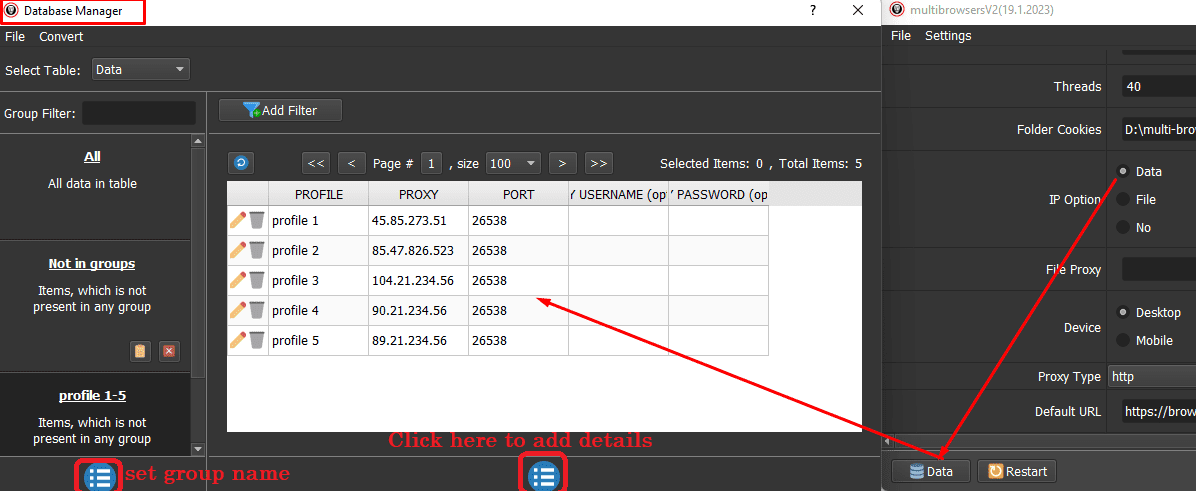 5.2 From File
If your proxy is stored in a text file, then you choose LinesFromFile and upload the file to the bot at File proxy field: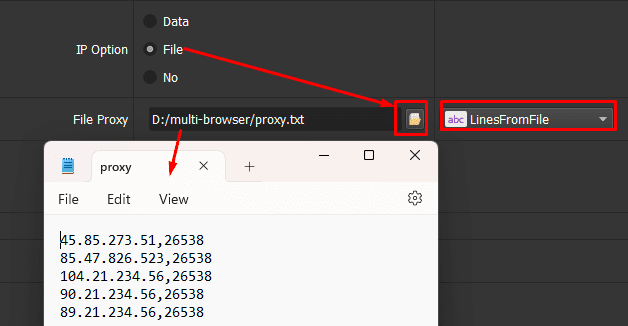 In case your proxy is an URL or proxy link, then you choose LinesfromURL and paste the link to the bot:

5.3 No proxy
No proxy represents your network IP. You can use No proxy to test the software with 1-2 threads.
6. Device
In case you wanna use Desktop User-agents to run, then you choose Desktop. 
And vice versa, choose Mobile if you need to use Mobile emulators.

7. Proxy Type
MultiBrowser supports you to use proxy protocols of https and socks5.
Choose type of proxy that are using at Proxy Type field:

8. Default URL 
Enter the website you want the browsers to visit directly. For example: if you wanna go to Facebook, then you add https://facebook.com/ as shown: 

After completing all the settings, click OK to run the software.
Later, open browsers to add your accounts and control your profiles manually.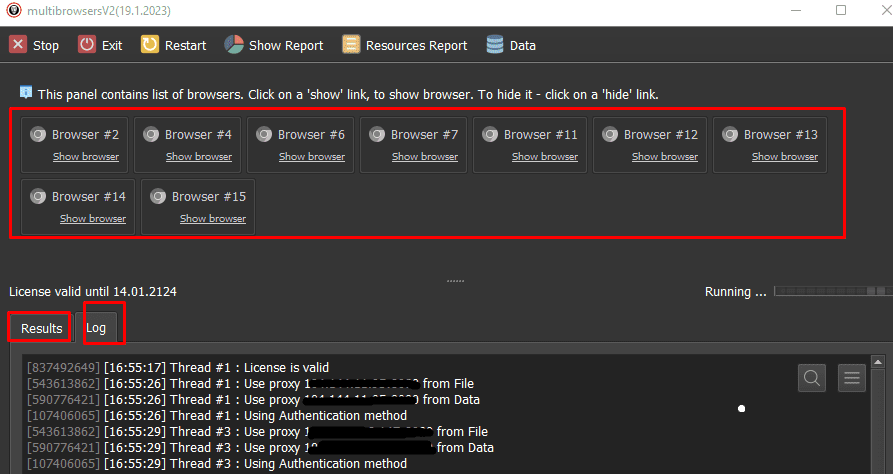 And check Log to see any updates of the software and check Used profiles in the Results section as shown above.
What is the price of MultiBrowser software?
In the end, thank you for reading the tutorial.
If you need further information, please contact us at qnibot.com