Twitter account creator allows users to register multiple Twitter accounts in bulk. It saves a considerable amount of time and effort for social media marketers and individuals who want to have a continuous growth in Twitter.
Why should you purchase Twitter

Account

Creator?
Create Unlimited Twitter Accounts with any email (enabled IMAP/POP) 
Provides thousands of User-agents to create unlimited accounts.
Open unlimited threads and browsers.
Auto change different IPs to be able to create bulk accounts. 
Use generated cookies immediately without re-login. 
Auto verify email after creating Twitter accounts
Solve Twitter Captcha automatically 
What are the advantages you get in the long run? 
Build a strong community: With 450 million Monthly Users of Twitter and thousands of TW accounts, you are able to boost your brand's awareness and help your content to be more visible on Twitter. 
Provide an abundant raw material resource: The more real accounts you use to increase engagement on Twitter, the more organic followers, likes and retweets you will get. 
Reach your marketing goals and increase profit instantly: Once you reach thousands of engagements and get recognition of Twitter, Twitter will help you complete your target and make more money.
Here is all the parameters and features of the software: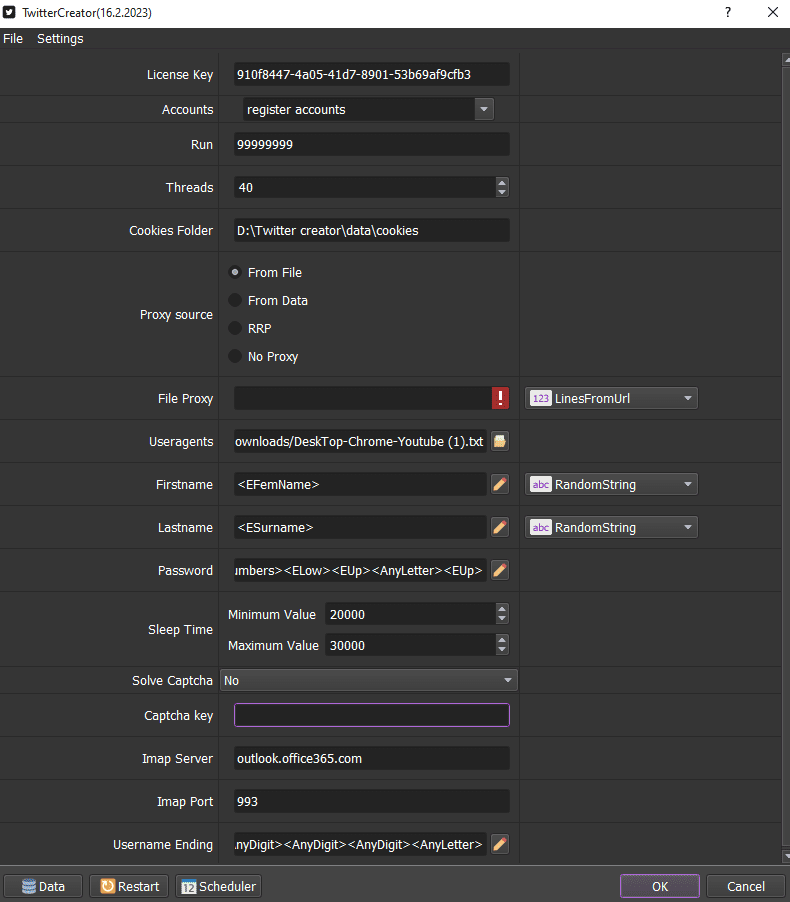 Instructions for checking basic settings in Twitter Account Creator: 
1. General Settings – Twitter Account Creator
A.1. Get License Key
COPY your license key that is provided at qnibot. 

A.2. NumberRun
This is to set the number of times to run or accounts that you want the software to create successfully. For example, if you set 1000, the software will stop automatically after 1000 accounts are created successfully.

A.3. Threads
Represents the number of tabs, browsers that are performed concurrently. This setting is based on your computer configuration. The stronger CPU of your PC is, the more windows you are able to run, as well as the more accounts you are able to get. For example: you can set 40 threads in maximum with a device of RAM 8GB and core i5: 

A.4. Useragents (Desktop)
Useragent file with more than 50,000 emulators is available in the download link that you get after purchasing the Twitter creator. 

A5. Cookies folder – Twitter Account Creator
Create a folder named cookies and then put the path on the software. This is a folder to store cookies (login state) and profiles of your accounts, then you should save this folder in a disk with the most empty space. 

A6. Proxy source – Twitter Account Creator
There are 5 options for Proxy source:

A6.1. From File (Proxy File or URL proxy)
Proxy File
First, add your proxy to a text file. Each proxy shall be entered line by line with a specified format: IP:Port:Username (if any):Password (if any). 

Next, choose LinesfromFile and select the icon

to put the proxy file into the software at File proxy field:

     2. URL proxy
If you use proxy link, then you choose LinesFromURL and paste the link to the software as shown:

A6.2. Proxy From Data – Twitter Account Creator
If you want to use each separate proxy assigned to each account, then you choose Proxy from Data. Then you put the proxy with your email accounts on the Database Manager box: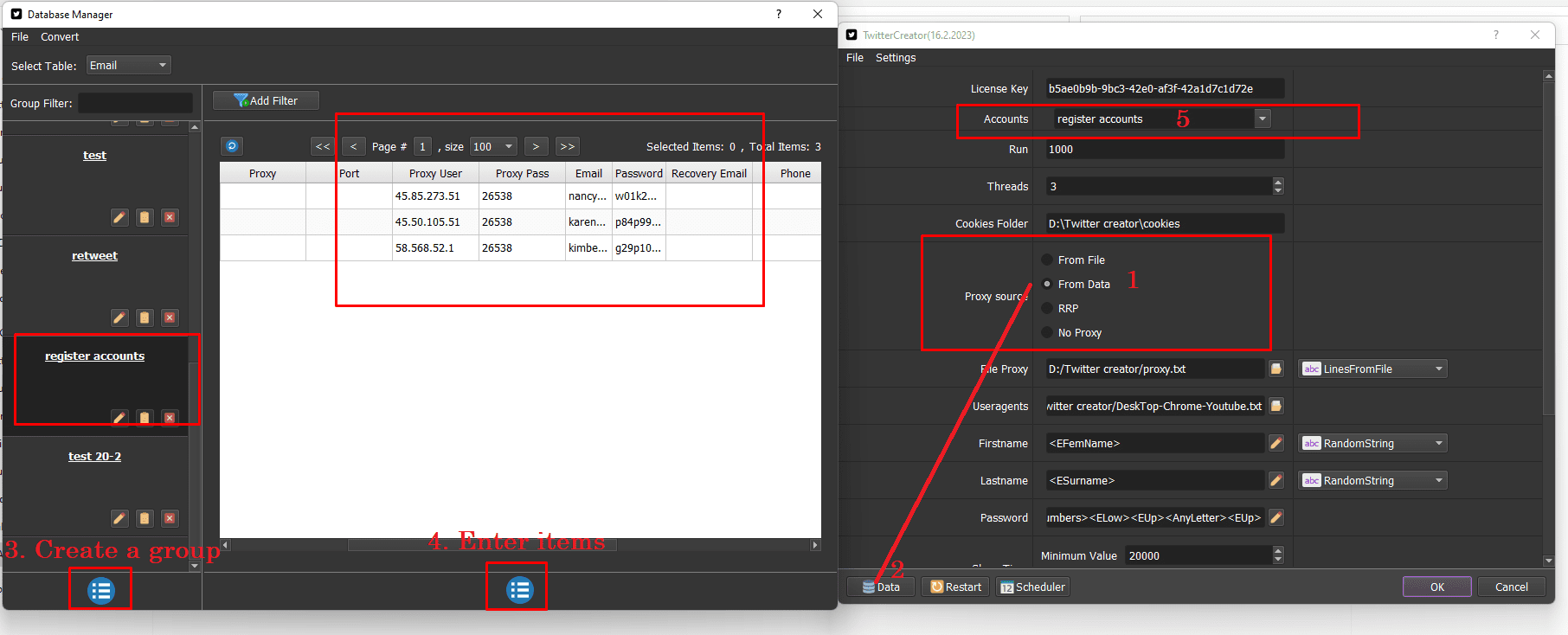 Or you can follow this instruction – HOW TO IMPORT DATA TO THE DATABASE MANAGER BOX for more details. 
A.6.3. RRP proxy – Twitter Account Creator
At Proxy source field, select RRP. RRP is a residential rotating proxy with 95% of US IPs. To get it, visit saferproxy.com.
A.6.4. No Proxy
If you want to use your IP to create accounts, then you choose No proxy. Keed in mind Twitter will not let you create multiple accounts with the same IP. 
A7. First Name, Last Name, Password, Username Ending – Twitter Account Creator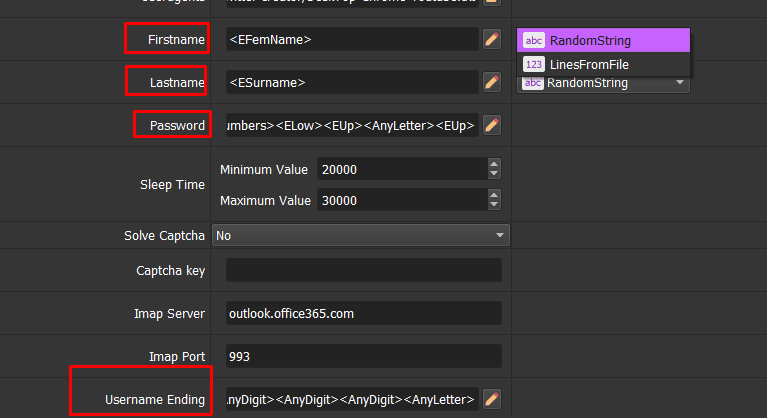 First name, Last name and Password: Select RandomString at Firstname and Lastname, the software will create Twitter accounts with First Name and Last Name as default.
First, put the icon

   and click on @Test to preview Firstname and Lastname, then customize them using tips (if needed) as below: 
Similar to password section, do the same to use random passwords from the software.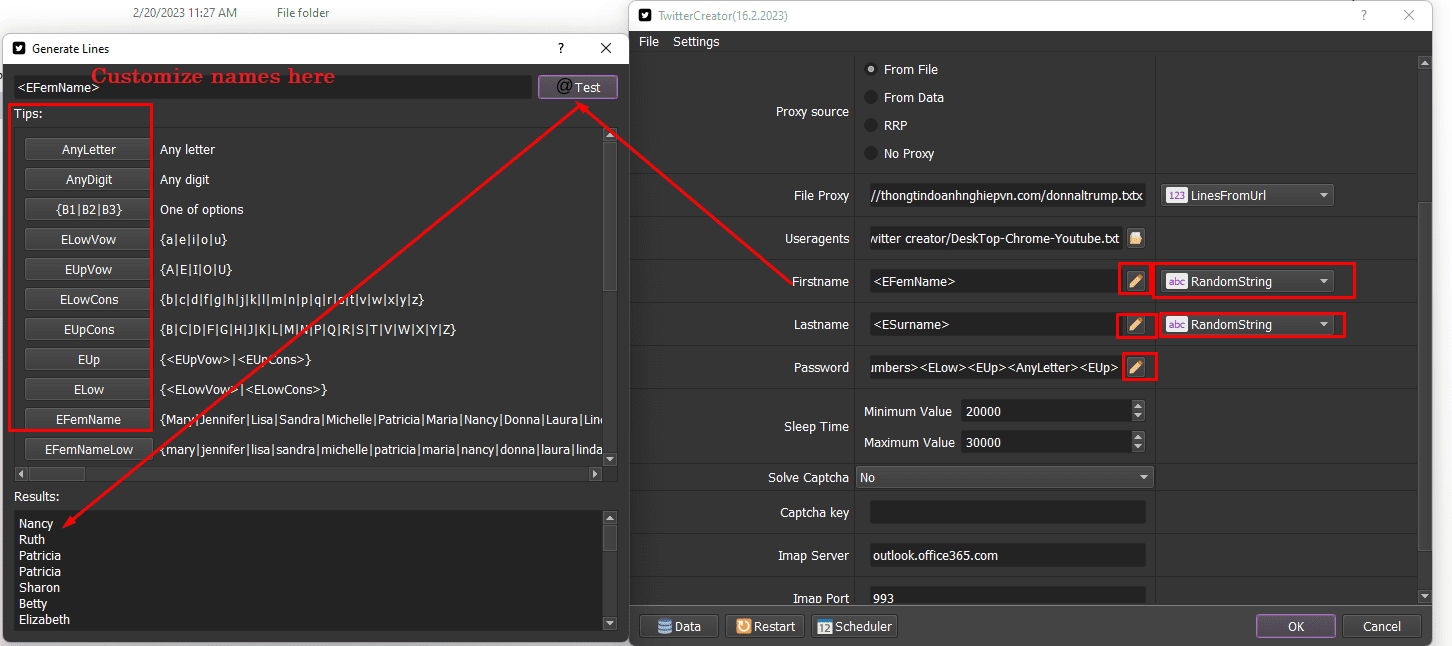 In case you want to use Last Name and First Name according to your need: Create Last Name and First Name files in a text file and then select LinesFromFile at Firstname and Lastname and choose  to put them to the software.

Select the icon   to preview Username Ending by clicking on @Test: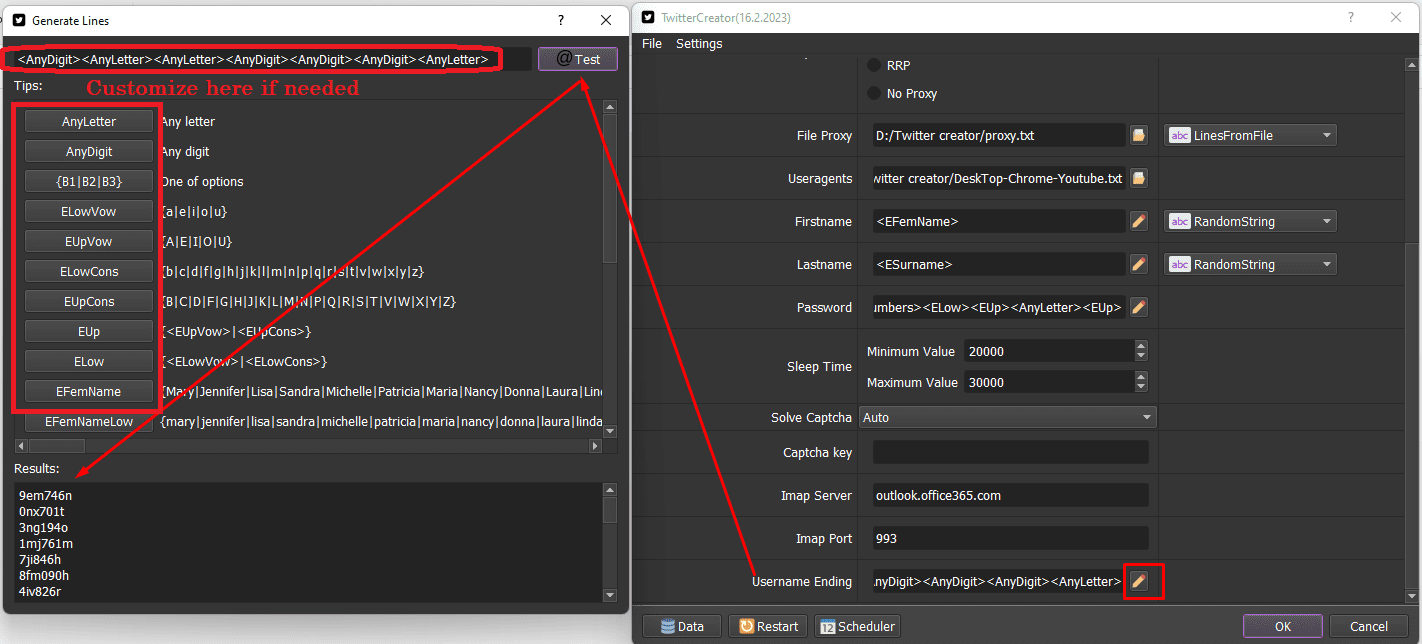 Sometimes, Twitter did not create Username automatically, then the software will create Username = (First Name + Username Ending).
For example, enter First Name as Donna and Username Ending as 9em746n, then the Username of created accounts will be Donna9em746n
Note: The length of a Twitter account's username should be no longer than 15 characters.
A8. Sleep time
Sleep is the resting time between turns of threads (Unit: milliseconds)
For example: you set 20-30 seconds as shown below, then after finishing with the first turn of threads, the bot will pause in 20-30 seconds before performing the next run.

A9. Solve Twitter Captcha

A9.1. Solve Twitter Captcha automatically using captcha.guru
If you choose Auto, then please register an account at https://captcha.guru/en and put your API key on the bot. Then, the software will automatically solve Twitter captcha if it comes. 

Twitter captcha: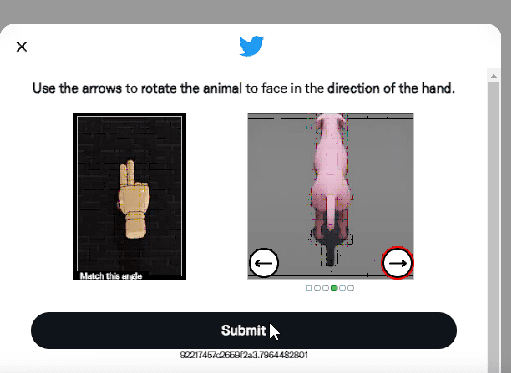 A9.2. Solve Twitter Captcha manually
In case you want to solve Twitter captcha manually, then you choose Manual. Accordingly, after the captcha comes, then please put Authenticate to solve it manually: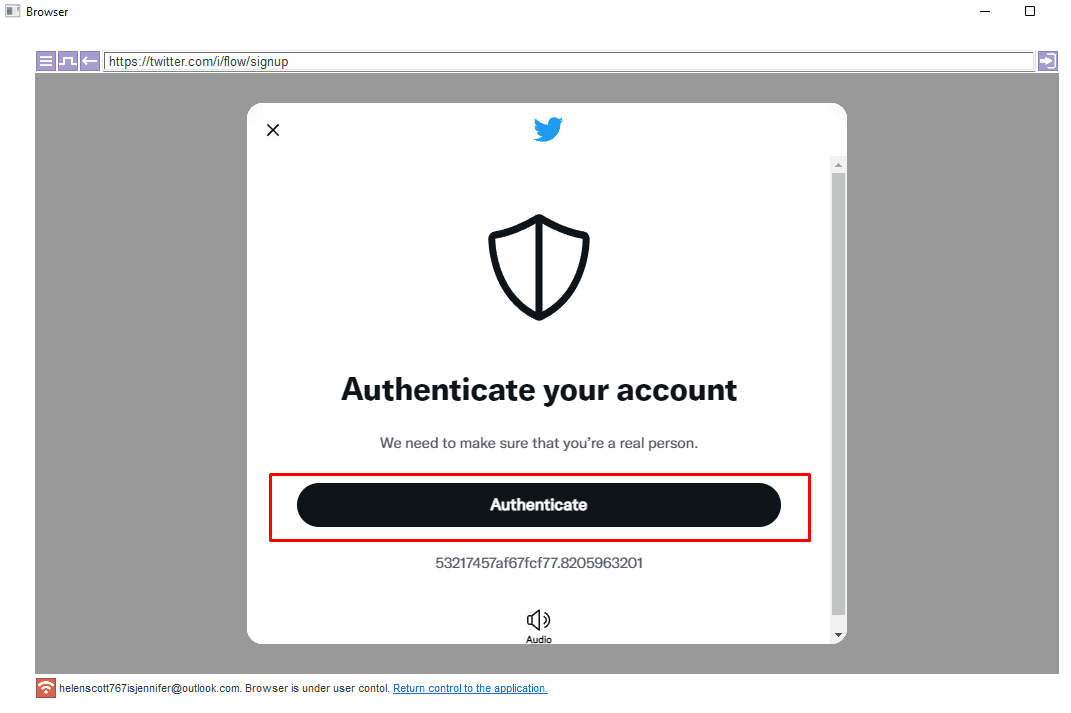 Finally, right after solving captcha successfully, please choose Return control to the application so that the software automatically keeps on the next steps and completes the process.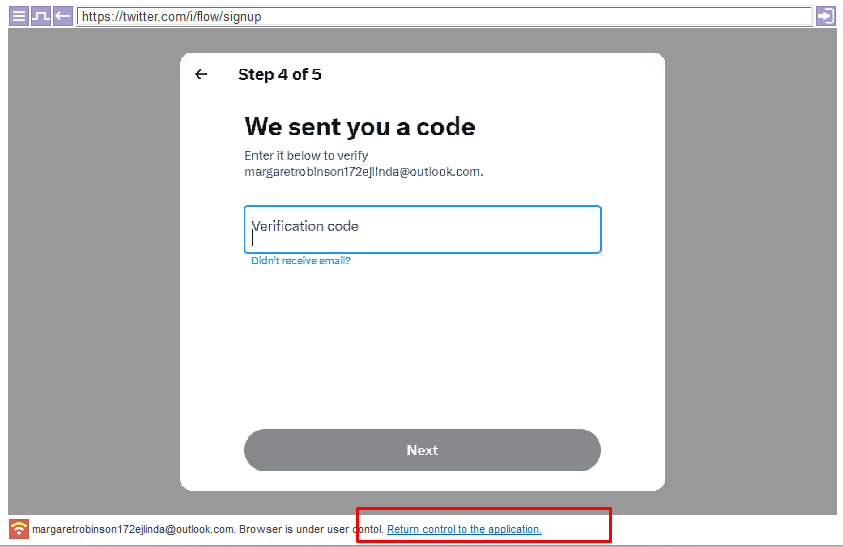 A10. IMAP Server and IMAP Port
To be able to create Twitter accounts using your email accounts, you need to have IMAP/POP enabled for your accounts.
Next, you need to put Imap Server and Port correctly. For example: below are IMAP Server and IMAP Port of hotmail: 

Imap Server and Imap Port of Gmail: 
Gmail IMAP Server: imap.gmail.com
IMAP Port: 993
Imap Server and Imap Port of Yahoo Mail:
Yahoo Mail IMAP Server: imap.mail.yahoo.com
IMAP Port: 993
2. How to Import Email accounts into Database Manager box to register Twitter accounts
You need to import the data including Email,password,recovery email (for gmail accounts),proxy and port (if you choose Proxy from Data). Or refer here to see how to import data in detail.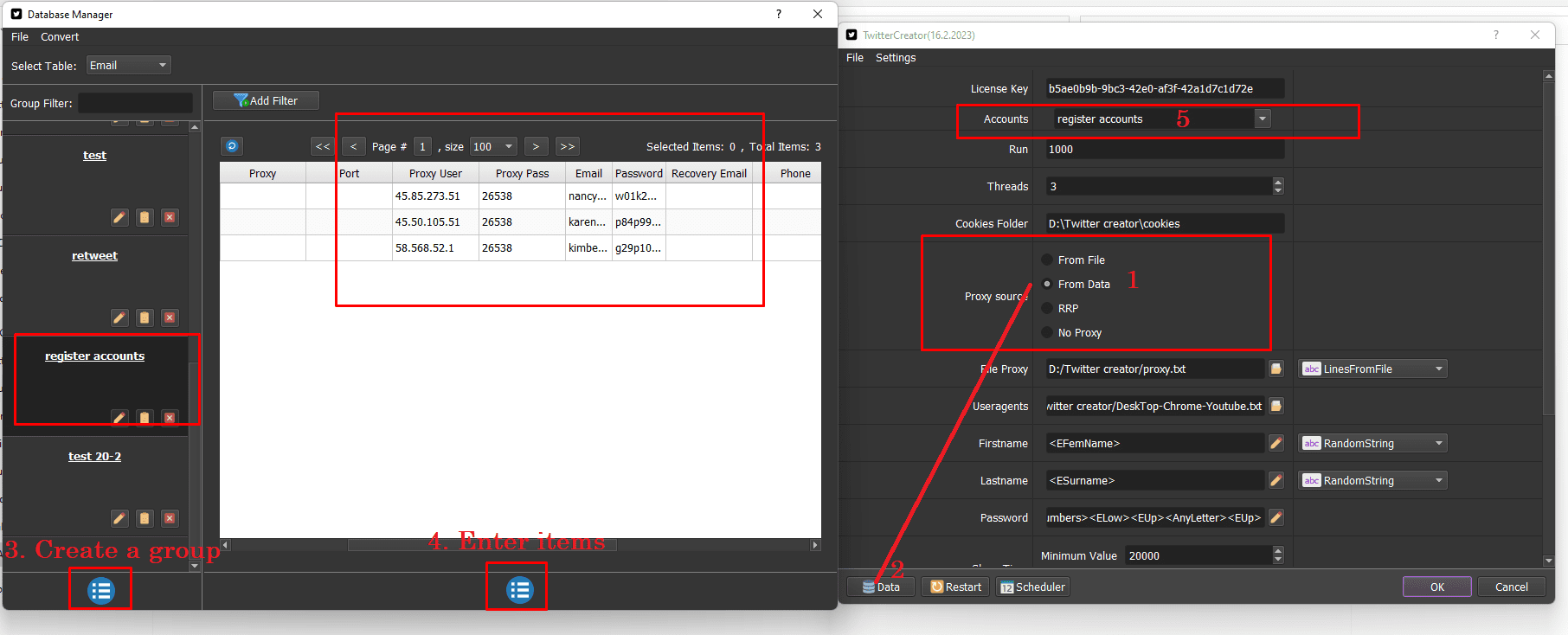 Then, after adding your accounts to the software, select an associated groupat Accounts field as shown above in Step 5.
Note that: please complete all the settings mentioned above before clicking on OK to RUN. 
3. How to get Results – Twitter Account Creator
Open Browsers to see how the software works and check status updates of the software at Log. 
After succeeding in creating accounts, you can get newly created accounts at Results section or Database Manager box of the software. 
Pricing Tag – Twitter Account Creator Bot? 
Thank you for following the post.
We appreciate your time. 
For more information, kindly contact us at qnibot.com