Hotmail is one of the widely used web-based email services around the world. Thanks to its great email composing features, hotmail is a highly effective tool for email marketing campaigns to increase brand awareness and drive traffic to your site. Besides, having a large number of Hotmail accounts helps you boost your visibility on social channels like: TikTok, Twitter, Reddit, Quora, etc. Capturing the growing needs of marketers, Qnibot helps you create bulk hotmail accounts with Hotmail Account Creator. 
Major features of Hotmail Account Creator
Create unlimited Hotmail accounts;
Automatically have Imap activated to Hotmail accounts upon successful registration;
Check status of Hotmail accounts;
Enable IMAP to Hotmail accounts;
Use different IPs to run;
Open multiple browsers and threads;
Emulate thousands of user-agents and emulators;
HOW TO USE HOTMAIL ACCOUNT CREATOR 
First of all, choose one of two ways to run: 
Here is the design of Hotmail Account Creator: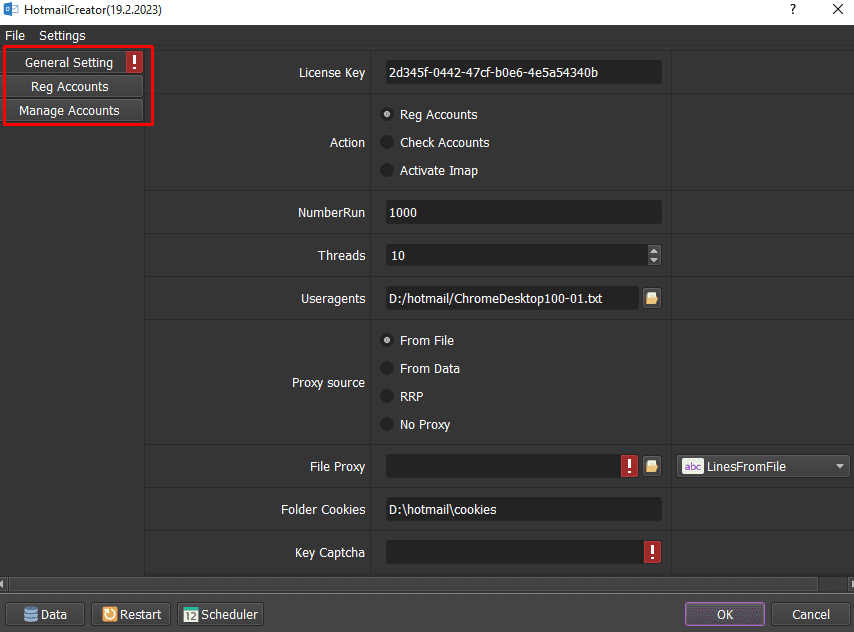 A. General Setting
A1. License Key – Hotmail Account Creator
COPY the License Key shown at qnibot.com/license and put the Key on the bot:

A2. Action
Choose one of the functions to run. 

Check Accounts: check your accounts if they are active or banned
A3. Run
This is the number of Hotmail accounts that you want the software to create successfully. If you set Run = 1000 as below, then the software will automatically stop after succeeding in creating 1000 accounts. 

A4.Threads
Represents the number of tabs, browsers and windows that are opened parallelly with different useragents.  Set number of threads that is in acordance with your computer configuration, for example 1 device of 8GB RAM, core i5 can be used to run 30-40 tabs. 

A5. Useragent

 
Download the Desktop Useragents file and click on

to put the file on the bot at Useragents field:

A6. Proxy Source



A6.1. From File
At Proxy Source field, select From File
Next, at File Proxy field:
If your proxy is an URL or proxy link, then you choose LinesFromURL and paste the link to the bot.

In case you choose LinesFromFile, then you put the proxy file to the bot:

Note that you need to use proxy with the format as IP,PORT,USER,PASS or IP,PORT as shown above. 
A6.2. From Data 
If you wanna enter different proxies assigned to each account for using Check Account and Activate IMAP functions, then you choose From Data and enter the columns: email,password,IP,PORT,USER (if any),PASS (if any) into Database Manager dialog box. 

see Section C more to learn how to import proxies with accounts.
A6.3. RRP 
To get the best performance in creating Hotmail accounts, then you should use Residential Rotating proxy, refer to saferproxy.com for more details. 
A6.4. No proxy
The software will use a single IP of your network to register Hotmail accounts. However, you cannot open multiple threads or create more accounts with the same IP. 
A7. 

Folder 

Cookies 
The software stores generated cookies and profiles of accounts in a cookies folder. Then, the software will restore cookies and profiles for subsequent runs without re-login.
Note that: you should store a cookies folder in a hard drive with the most empty space.
Create a new folder named cookies and paste the path link to the bot at Cookies Folder field: 

A8. Key Captcha

Please register an account at captcha.guru and paste the API key to the bot:

B. How to register Hotmail accounts using Hotmail account creator
Firstly, choose Reg accounts at Action field. 

Next, you need to set up these additional settings:
At the interface of the software, click on Reg Accounts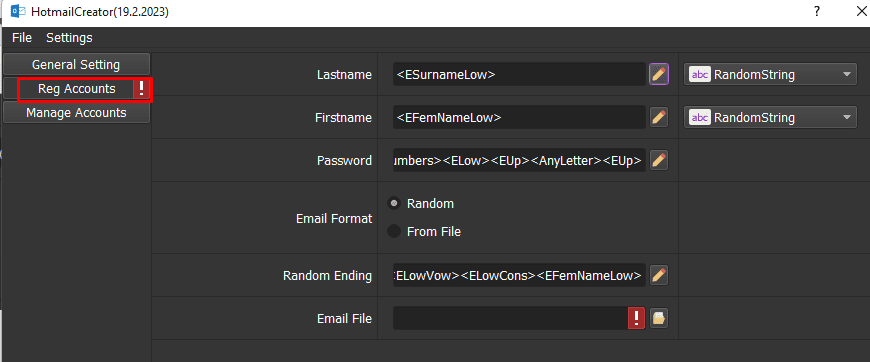 B1. Lastname, Firstname and Password 
Choose RandomString at LastName and FirstName fields: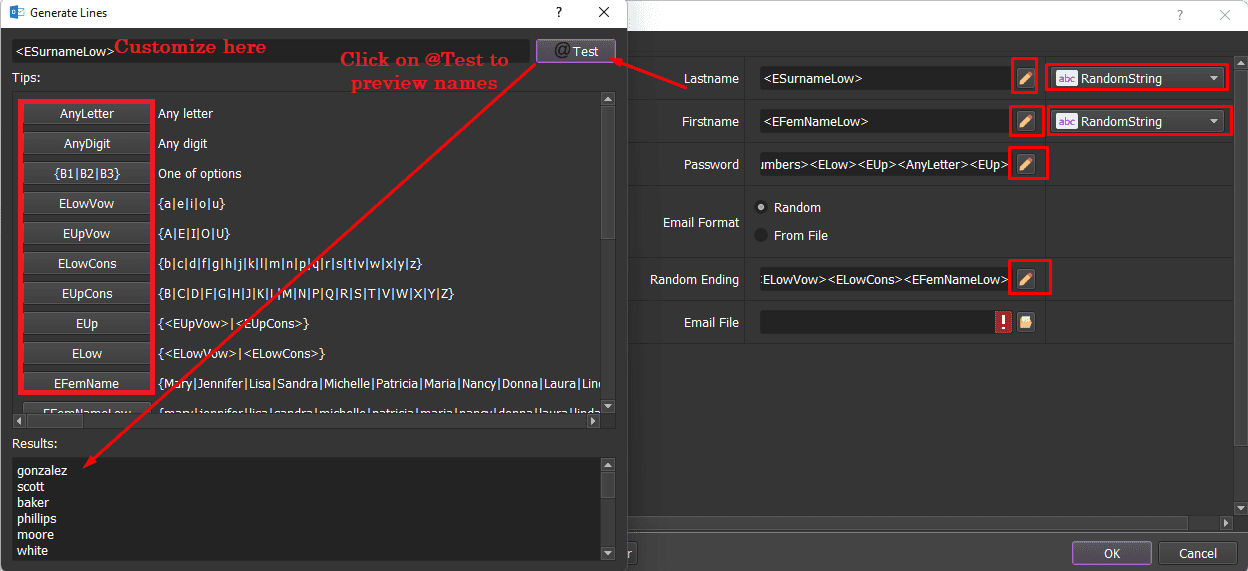 Similar to firstname and lastname, you also click on the icon

  and set up as above to get random password. 
In addition, you can choose LinesfromFile to use your firstname and lastname files and click on to add the files to the bot as shown: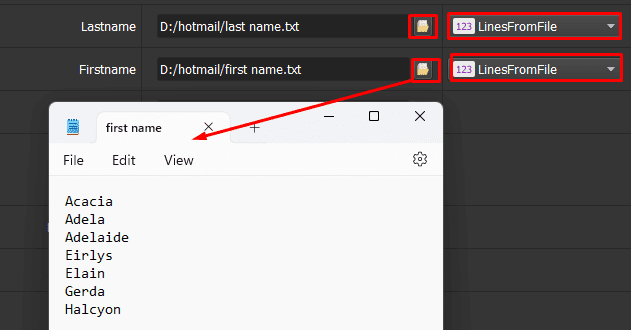 B2. Email format and Random Ending 
About Email format, the tool will automatically get email address format: firstname+lastname+random ending (from the software)
Next, at Email format field, choose Random and take the same as Firstname and lastname to set Random ending. 

In case you do not use Random Ending from the software, then you create a text file to add your email that you want as per the format: firstname+lastname+optional ending
At Email format field, choose From File and click on

to put the file on the bot at Email file field: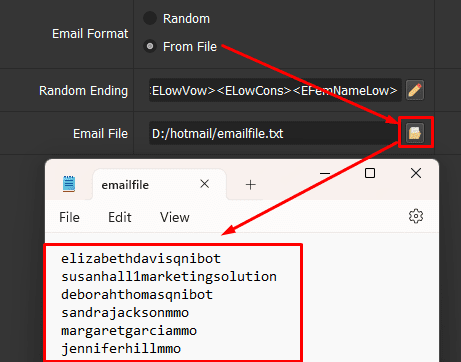 Remember that: enter email addresses line by line and do not include @hotmail.com
B3. Activate IMAP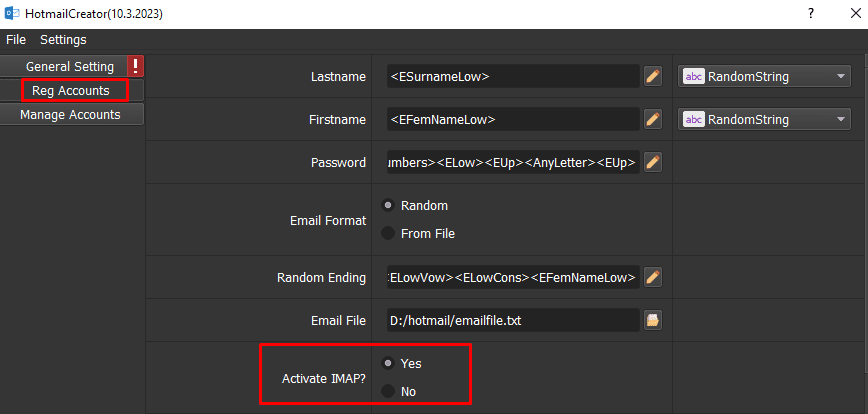 Choose Yes at Activate IMAP field if you want the software to enable IMAP upon registering hotmail accounts successfully. Otherwise, choose No. 
Then, click on OK to run after completing all the neccessary settings. 
Finally, get the newly created accounts in the Database Manager dialog with a group named Not In Group. 
See Section C more to open Database Manager box and check any updates of the software. 
C. Check Accounts Status – Manage Accounts
In the General Setting section, choose Check Accounts 

C1. Add your accounts and choose group of data: 
At the interface of the software, click on Manage Accounts and open Database Manager dialog box: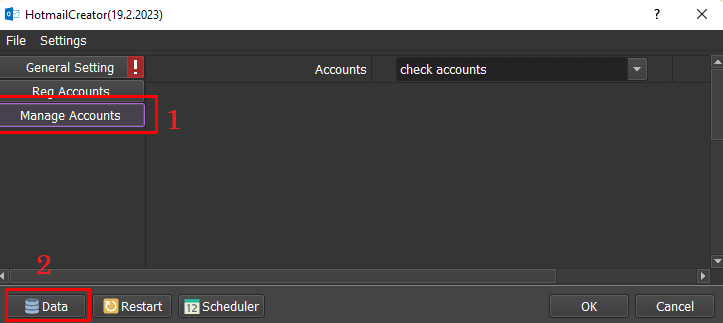 Then import your hotmail accounts into the Database to run with Check Accounts functions.
=> See Instruction on How To Import Data more. 
Next, choose group of accounts at Accounts field:

Finally, click on OK to run after checking all the settings
C2. Check Browsers and get results: 
You can open Browsers to check how the software operates and see any updates from the Log section: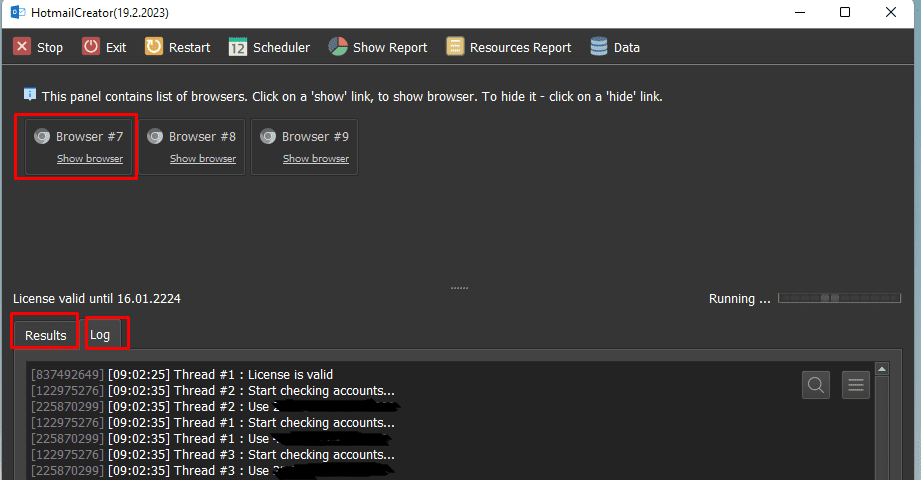 And find out good accounts and bad accounts in the Results section:

Or check status of all the accounts in the Database Manager dialog box:

D. Activate IMAP – Hotmail Account Creator

First, choose Activate IMAP
In case you wanna enable IMAP of the other accounts that are not created by the software, then you add your Hotmail accounts into Database Manager dialog box.
Follow Section C. Check Accounts more to learn how to import accounts and choose group of accounts.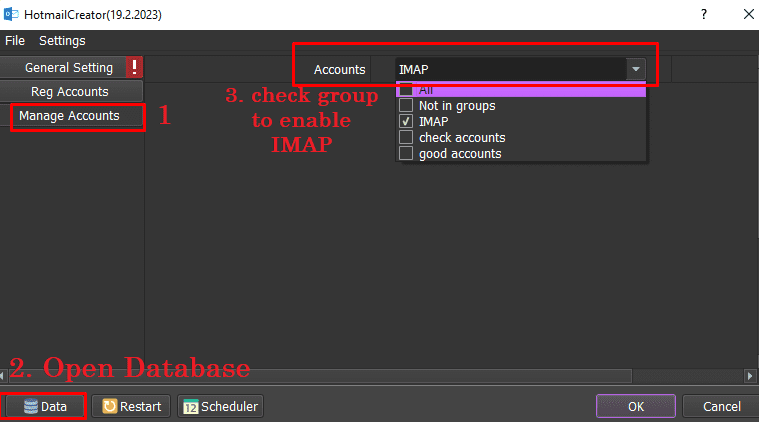 Ultimately, all of the accounts that are enabled IMAP shall be automatically stored in the IMAP column, Database Manager dialog box:

Additionally, follow Section. C2 to check browsers and logs of the software.
Pricing Tag – Hotmail Account Creator
In the end, thank you for following the tutorial.
Please do not hesitate to contact us at qnibot.com for further information.