Behance is among the most popular design platforms and attracts the attention of a wide audience, especially design professionals and design enthusiasts. Thanks to the popularity of the platform, it has been a highly effective marketing platform for you and for design marketers. Having multiple Behance accounts helps you increase engagement for your content and make your designs more visible. Then it helps you get more organic engagement and build a strong position on the platform. With that in mind, Qnibot gives you Behance account creator to create unlimited Behance Accounts on a quickly and efficiently basis. 
Major features of BehanceCreator: 
Create multiple Behance accounts from various emails (Gmail, Hotmail, Yahoo, etc.)

Runs with multiple threads and browsers 

Provides thousands of user-agents or emulators  
User-friendly interface

Use different IPs to run 

Frequently update
Instruction for Registering Bulk Behance Accounts Using Behance Account Creator: 
First of all, choose one of two ways to run: 
Here is the design of Behance Account Creator: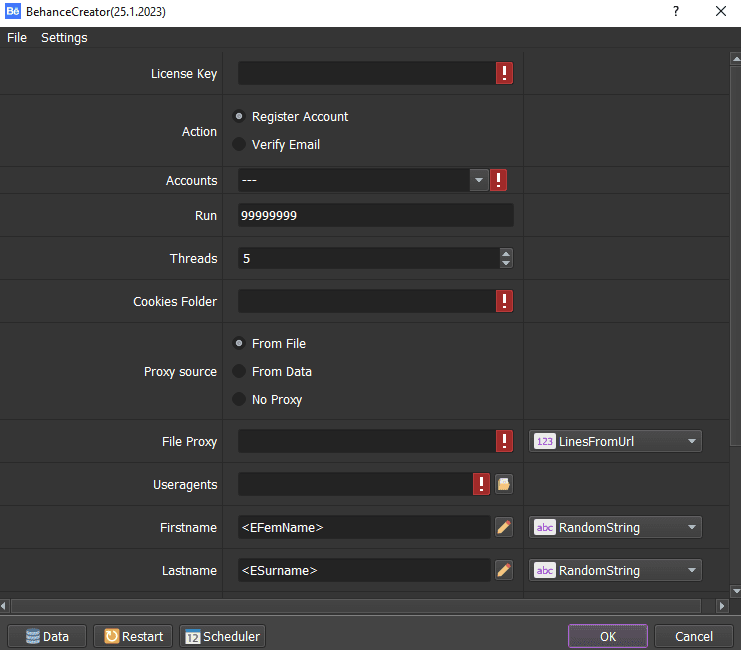 1. License Key
Get License Key at qnibot.com/license after purchasing the bot and put the Key on the bot:

2. Action – Behance account creator
First you choose Register account at Action field, the bot will create Behance accounts in bulk. Then, the software will automatically verify the email after completing the registration and enter Yes in the Verified column. In some cases, the software does not complete the verification, you choose the Verified email function to verify again.

3. Accounts
You need to add your email accounts into Database Manager dialog box to create Behance accounts. 
>> Refer to Instruction on How To Import Data for more details and use this Template to add more accounts. 

Note:
You need to have IMAP/Pop3 activated to all email accounts before running with Register Account.
Enter the details of your accounts according to the format:  Email (Gmail, Yahoo, Gmx, Hotmail, etc.),Password,Recovery Email,Proxy (if any),Port (if any),Proxy Username(if any),Proxy Password (if any). 
4. Run
This is the number of Behance accounts that you want the software to create successfully. If you set Run = 1000 as below, then the software will automatically stop after signing up 1000 accounts smoothly. 

5. Threads
Represents the number of tabs, browsers and windows that are opened parallelly with different useragents.  Set number of threads that is in acordance with your computer configuration, for example 1 device of 8GB RAM, core i5 can be used to run 30-40 tabs. 

6. Cookies Folder 
The software stores generated cookies and profiles of accounts in a cookies folder. Then, the software will restore cookies and profiles for subsequent runs without re-login.
Note that: you should store a cookies folder in a hard drive with the most empty space.
Create a new folder named cookies and paste the path link to the bot at Cookies Folder field: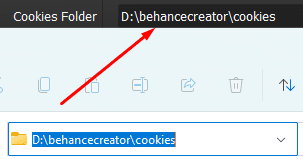 7. Proxy Source – Behance account creator
To create bulk Behance accounts, you should use diffferent IPs or proxies. 
You can get the best proxy at saferproxy.com/

Note that: you need to use the proxy with the format as IP:PORT:USER:PASS or IP:PORT. 
7.1. From File
At Proxy Source field, select From File
Next, at File Proxy field:
If your proxy is an URL or proxy link, then you choose LinesFromURL and paste the link to the bot.

In case you choose LinesFromFile, then you put the proxy file to the bot:

7.2.
From Data – Behance account creator
At Proxy Source field, tick From Data
If you wanna enter different proxies assigned to each account, then you choose From Data and then see 2. Accounts section more to learn how to import proxies into Database Manager dialog box.
7.3. No proxy
The software will use a single IP of your network to register Behance accounts. However, you cannot open multiple threads with the same IP. 
8. Useragent – Behance account creator
Download the Useragent Destop file and click on

to put the file on the bot at Useragents field:

9. First Name and Last Name
There are 2 ways to create First Name and Last Name:
1. You can choose RandomString at Firstname and Lastname to use the random names from the software. Click on

and put @test to preview the First Name and Last Name and customize them using the following tips if needed:

2. Use your own Last Name and First Name files: Add first names and last names in a text file and then choose LinesFromFile => click on 

=> upload the created files: 

10. Sleep 
Sleep is the break time among run turns (Unit: milliseconds). 
For example: If you set Sleep time = 20000-30000 milliseconds, after finishing with running one turn of threads, the software will delay 20-30 seconds before switching to the next turn. 

11. Captcha API key

Register an account at captcha.guru/en and paste the API key to the bot:

Note that: you can begin with $5 at captcha.guru. 
12. Imap Server and Imap Port
As mentioned above, to be able to create Behance accounts, you need to have IMAP/POP enabled to your accounts.
Next, add Imap Server and Port correctly. For example: below are IMAP Server and IMAP Port of hotmail: 
Imap Server and Imap Port of Gmail: 
Gmail IMAP Server: imap.gmail.com
IMAP Port: 993
Imap Server and Imap Port of Yahoo Mail:
Yahoo Mail IMAP Server: imap.mail.yahoo.com
IMAP Port: 993
Finally, click on OK to run.
Then, you can open browsers to see how the software operates and check status from the Log section.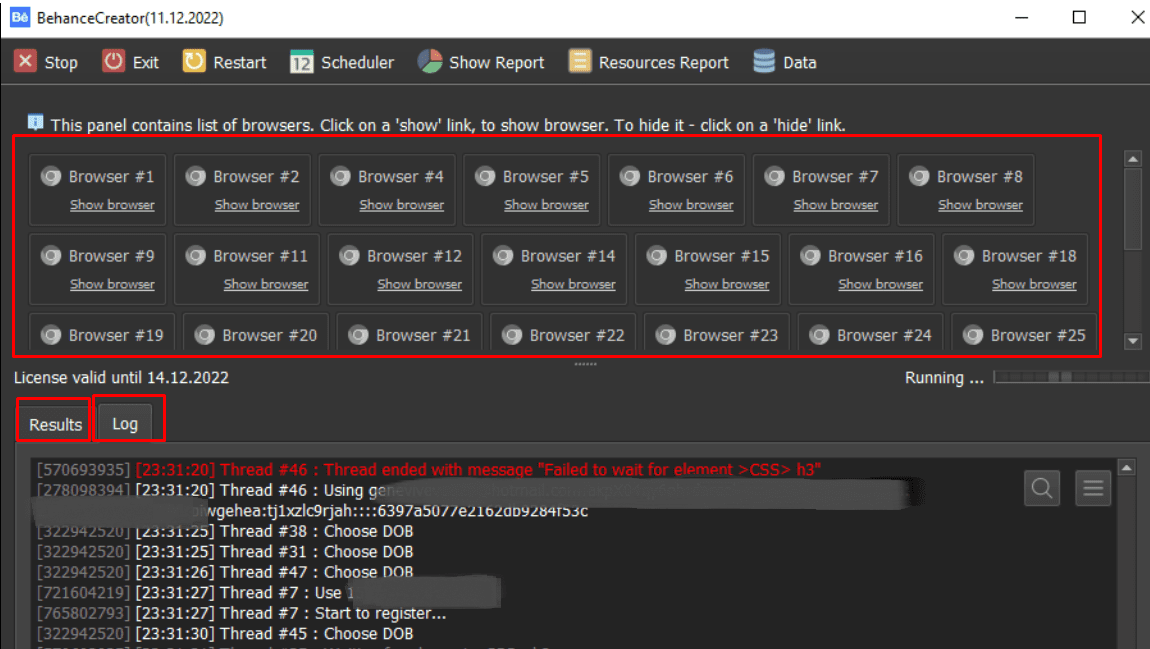 Ultimately, you can export created accounts in the Results section above. Also, after registering Behance accounts and verifying emails successfully, then the software will automatically fill Yes in the Registered Column and Verified in the Database Manager box. 

What is the Price of Behance Account Creator?
In the end, thank you for following the tutorial.
We hope you find this instruction helpful.
Please do not hesitate to contact us at qnibot.com If you need further information.