Going live on TikTok is considered the most effective marketing method in recent years. With over 1 billion monthly visits, you can quickly catch up with other TikTokers by using the TikTok View Bot (generally called TikTok LiveChat). TikTok LiveChat Bot helps drive more views and do auto-chat to your live videos. That helps your content go viral and facilitates you to earn a lot of money. 
DIFFERENT FUNCTIONS OF TIKTOK VIEW BOT
Create Multiple TikTok accounts
Increase more views to TikTok

live videos

Auto chat on your livestreaming
Check profiles of bulk TikTok accounts
Control your TikTok accounts manually 
Multiple threads at the same time with different

User-agents

Can use Residential Rotating proxy to run
DETAILED INSTRUCTIONS FOR TIKTOK LIVECHAT BOT
1. GENERAL SETTINGS – TIKTOK VIEW BOT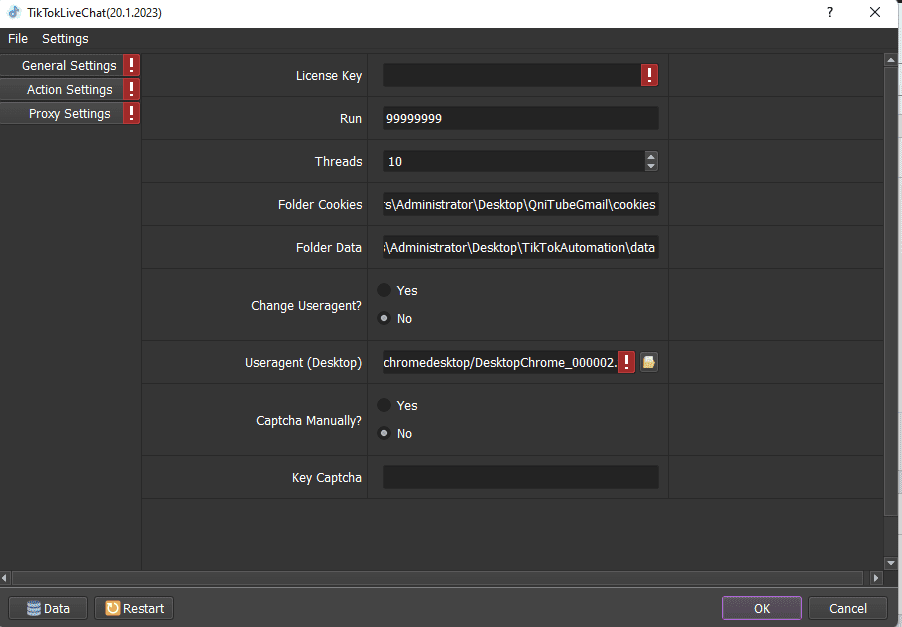 A. License Key
You will get a License Key on qnibot.com after making payment successfully.

B. Run
Set the number of runs or the number of TikTok accounts that you want to create. 

C. Threads
Enter a number of threads or browsers running simultaneously depending on your PC configuration. The higher the configuration, the more browsers you are able to open.

D. Cookies folder
Create a folder named cookies and then paste the path to the software. This is where the cookies and profiles of all your accounts are stored, then you should use the disk that has the largest free space.

E. Data folder
Put the path to the software as shown above. You can save your video links, comment content in this folder. Also, this is to store collected result: commented accounts|comments.

F. Useragent (Desktop)
Download the Useragent that shows in the download link, enter

 at Useragent (Desktop) field=> put the Useragent file.

Next, select Yes if you want to change Useragent and vice versa.   

G. Captcha Manually
Choose Yes if you want to solve captcha manually and vice versa.

After the captcha comes, then you click on Browser to solve it manually and choose Return to the application so that the software keeps on the next steps and complete the process. 
H. Key Captcha
First, please create an account at captcha.guru/en/ and put your key captcha on the bot. Then, TikTokLiveChat bot will solve the TikTok captcha automatically.

K. PROXY SETTINGS
Take note that the software works well with format as IP:Port:Username (if any):Password (if any). 
Check Proxy Settings field to see all proxy options:

K1. From Data
If you want to use each IP assigned to each account, you will choose Proxy from data, and then import your proxy with accounts into Database Manager box. Kindly refer to how to import proxy with data.

K2. From File
In case you use File proxy (proxy URL and proxy file), then you choose From File. 
First, create a text file to enter the proxies line by line.
Next, at File Proxy field, put your proxy file to the bot:

At File Proxy field, select LinesFromUrl => put your proxy URL on the bot. 

K3. No Proxy
Remember that this is to test the tool only. You can run 1-2 threads with this option. 
2. ACTION SETTINGS – TIKTOKLIVECHAT
Note that before using different features of TikTokLiveChat bot, please complete all the steps above.
3.1. Reg TikTok
To create TikTok accounts automatically using your gmail accounts, select Reg TikTok at Action field.
Next, please Refer to HOW TO IMPORT ACCOUNTS to enter your Gmail accounts to the Database Manager box.
Note: You need to enter Gmail, password, Email2 (recovery email), proxy (if any), port (if any).

Then, after importing your accounts, please choose group of account at Account field as above. 
Next, at Username field, if you want to use random usernames from the software, please click on @Test to preview your username and customize it if you want.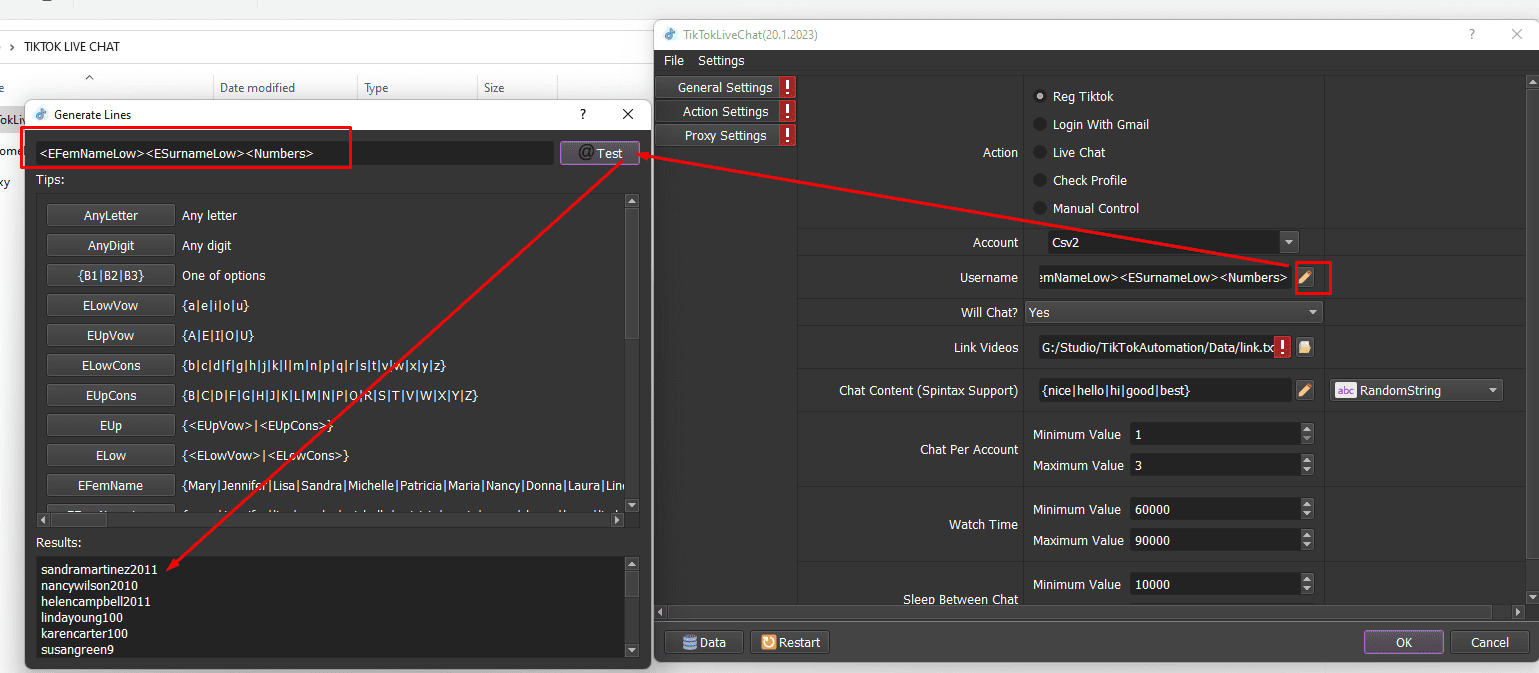 Notes: this field is not available for some countries. For some countries or locations, TikTok requires you to use your email name as a username.
Then, check all basic settings mentioned in part A and part B.
Finally, enter OK to run. 
After completing the process, you can export newly created TikTok accounts in the Database Manager box.

3.2. Login With Gmail
This is to Login With Gmail function, then the software will save cookies and profile after logging into your account. For the next run, the bot will load cookies and profiles to perform other functions without needing to re-login.
Follow all the steps mentioned at Item 3.1 and click on OK to run. 
3.3. Login with QR
At Action Settings, then you choose Login with QR as shown below:

Check all the general settings and click on OK to run
Next, open browser to login with QR code manually: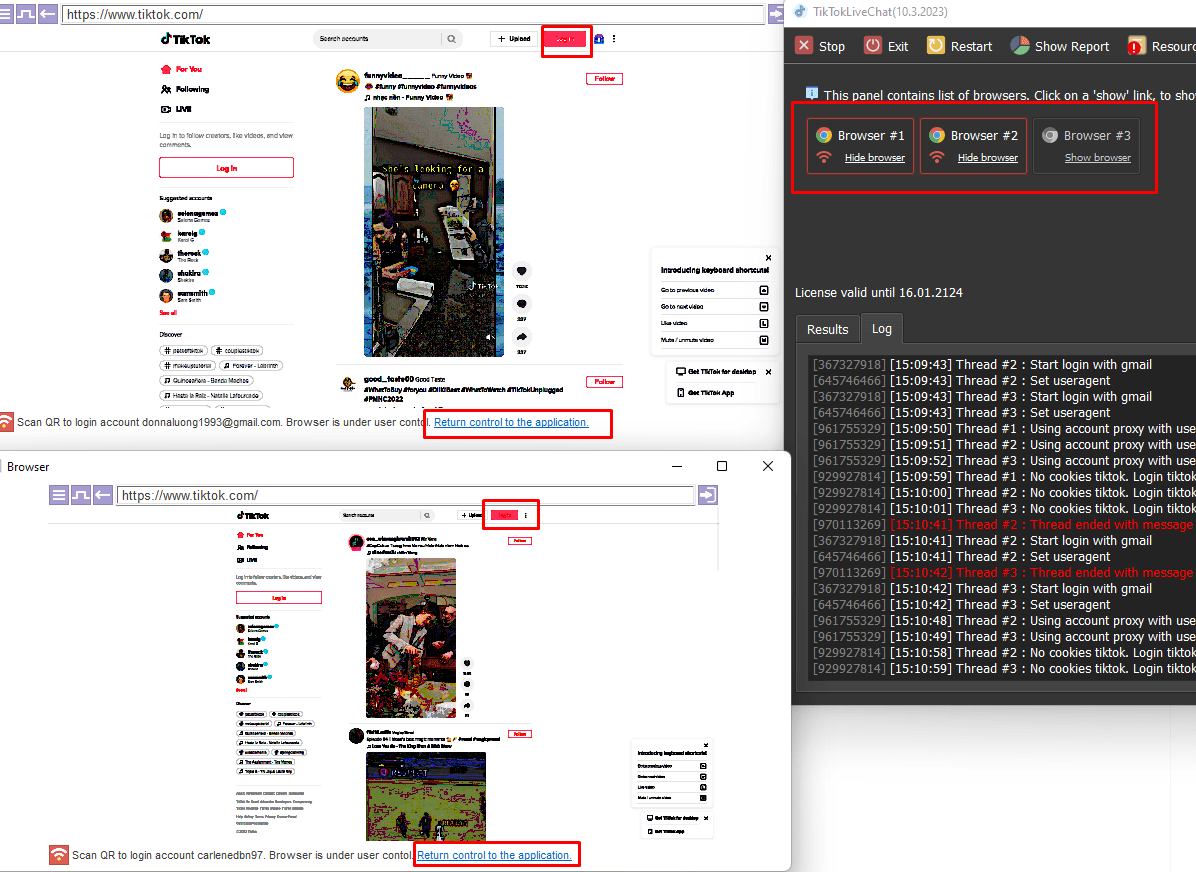 Next, after completing Login with QR, then you choose Return control to the application so that the tool can keep on next steps and save cookies.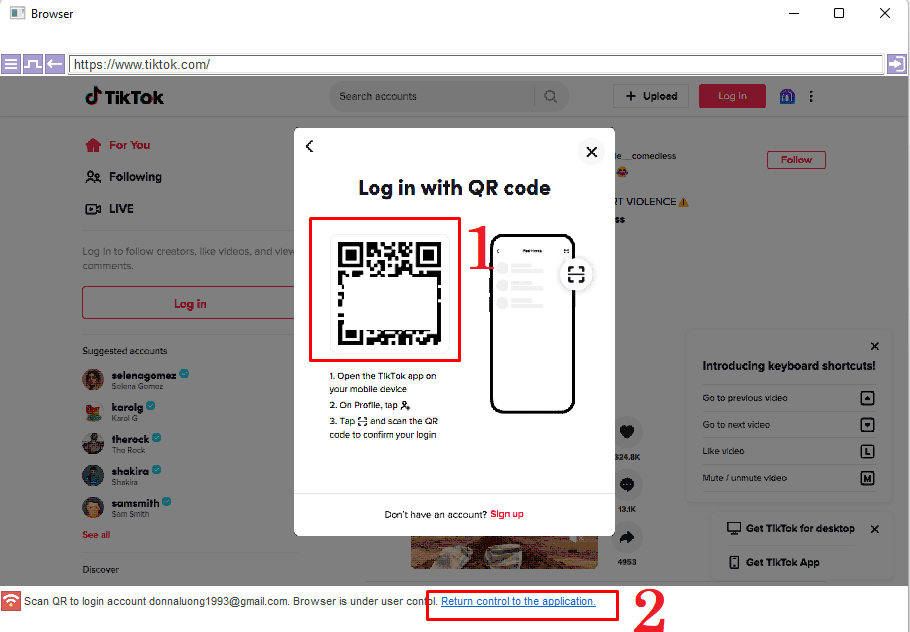 At Action section, select Live Chat
Refer to section 3.1 to put your accounts on the Database Manager box and check group of data at Account field.

Create a text file to save links of TikTok livestream videos and enter the file to the bot:

       3. At Watch Time section, set watch time to watch your livestream videos. (Unit is milliseconds)

       4. At Will Chat field,
Select No to increase views only.
Choose Yes to both increase views and do autochat (boost comments) on your live videos. 
       5. At Chat Content field: 
You can select RandomString, click on   and then @Test to preview and customize the random content from the tool: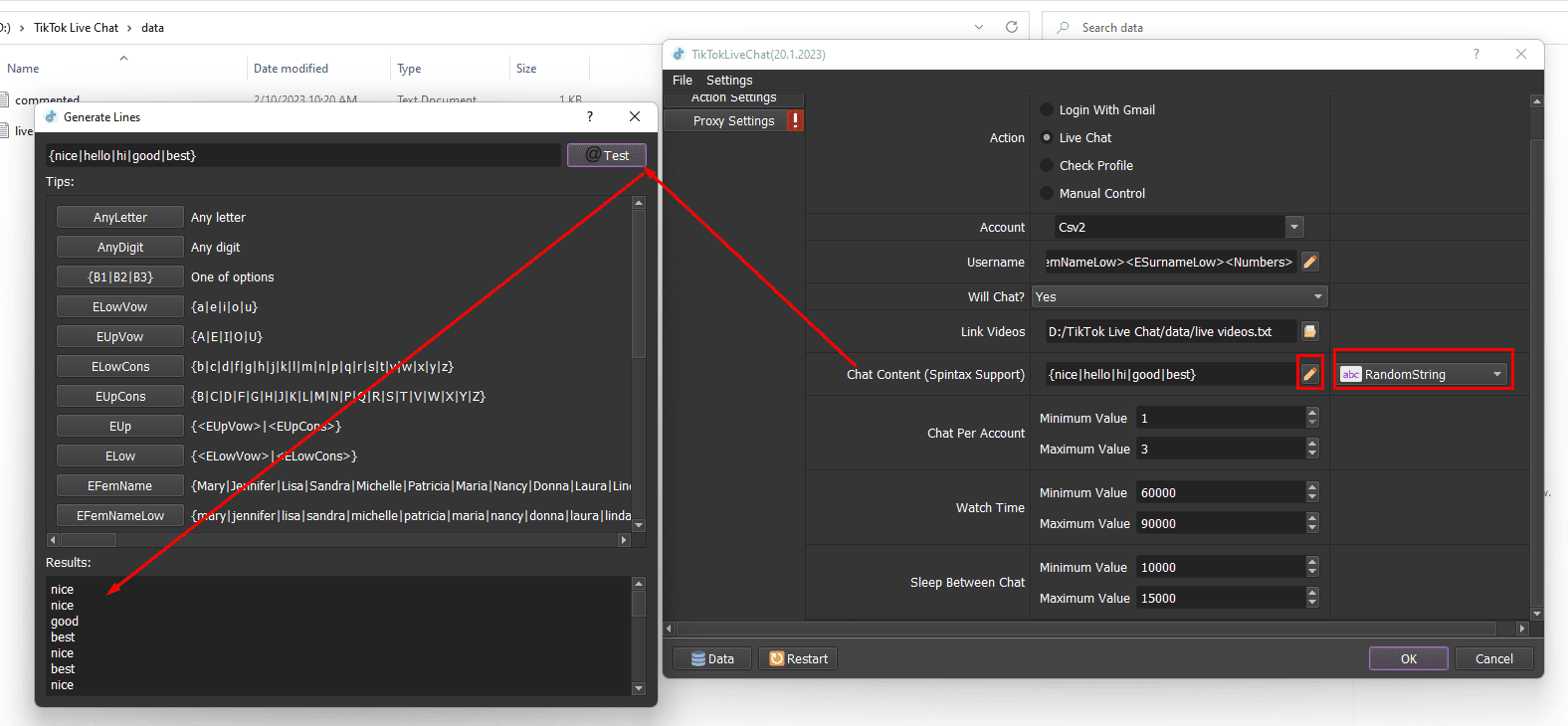 In case you want to use comment file, then you choose LinesFromFiles and enter to put the content file to the bot: 

Then, at Chat Per Account field, enter the number of comments that you want to do for each account.

Next, at Sleep Between Chat section, enter pause time between chats. (Unit is milliseconds)

Finally, enter OK to run. 
3.5. Check Profile
At Action field, select Check Profile
Next, Refer to Item 3.1 to see how to import data into the TikTok LiveChat Bot and then check the associated group of accounts at Account field.
Then, click on OK to RUN. 
After completing, the result will be updated automatically in Followers, Following and Status columns in Database Manager box.

3.6. Manual Control 
This feature helps you to manually control your TikTok accounts after these accounts have been logged into the software. 
At Action field, select Manual Control
Next, Refer to Item 3.1 to see how to import data into the TikTok LiveChat Bot and then check the associated group of accounts at Account field.
Then, enter OK to run.
What is TikTok LiveChat Price? 
Thank you for following the post.
If you need more information, kindly contact us at qnibot.com.