Traffic from social media platforms refers to the number of visitors and users who access a website or online content through a link shared on social media. Social media platforms are increasingly becoming a primary source of traffic for websites and businesses as more people spend time on social media. Accordingly, Facebook, Twitter, Instagram, and LinkedIn help drive significant traffic to your website or rank your site effectively. With that in mind, we offer Social Traffic Bot that increases clickthrough rate, boosts your site's ranking and reaches a huge number of real customers.
What can you expect from Social Traffic Bot? 
Auto increase more traffic to your website from post links on social media platforms 
Manage thousands of links and social media posts
Auto log into gmail accounts at the same time

Use Rotating Proxy or different IPs to run

Frequent update
Instruction for using Social Traffic Bot? 
1. License Key – Social Traffic Bot
Visit qnibot.com/License to COPY License Key after completing your payment:

2. Run
Run is the number of successful runs. For example, if you set Run = 1000, the software will run 1000 times successfully and then the software automatically stops.

3. Threads
Threads is the number of threads or tabs run at the same time. For example, if you set Threads = 40, then the software will operate 40 browsers at the same time using 40 different emulators on the same computer. Set the number of threads to comply with your computer configuration, for example: 40 threads are appropriate to a device with 8GB RAM, core i5.

4. Proxy Source – Social Traffic Bot
Proxy Source is to select the sources to use proxies in the software:
4.1. Dcom
Choose Dcom if you want to connect or use Dcom to run.

4.2. From Data
If you need to assign a proxy along with your Gmail account, then you choose From Data and enter proxy with accounts in a text file. 


Note that: you need to import accounts with proxy according to the format: Email,password,recovery email,IP,PORT,USER(if any),PASSWORD(if any)
Later, put your file on the bot at Gmail Accounts field:

4.3. From File 
If your proxy is URL or a proxy link, then you choose LinesfromURL and paste the link to the software at List Proxy field: 

In case you want to use proxy file, then create a text file to enter your proxies and click on the icon

to add the file into the bot:

(Required Proxy format: IP:PORT or IP:PORT:USER:PASS) 
4.4. No
If you are testing the software, you can choose No, then the software will use the IP from your network to run.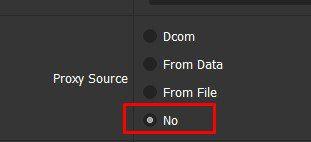 5. Will Use Gmail
If you wanna use Gmail to increase traffic, then you choose Yes at Will Use Gmail? field, otherwise choose No.

Next, add your gmail accounts file to the bot at Gmail Account field (See Section 4.2 more)
6. Input Data – Social Traffic Bot
Enter the homepage link and links containing the homepage links posted on social media platforms. 
First, click on Data to open Database Manager dialog box: 

Then, set group name and click on Add Items to put your links as shown below: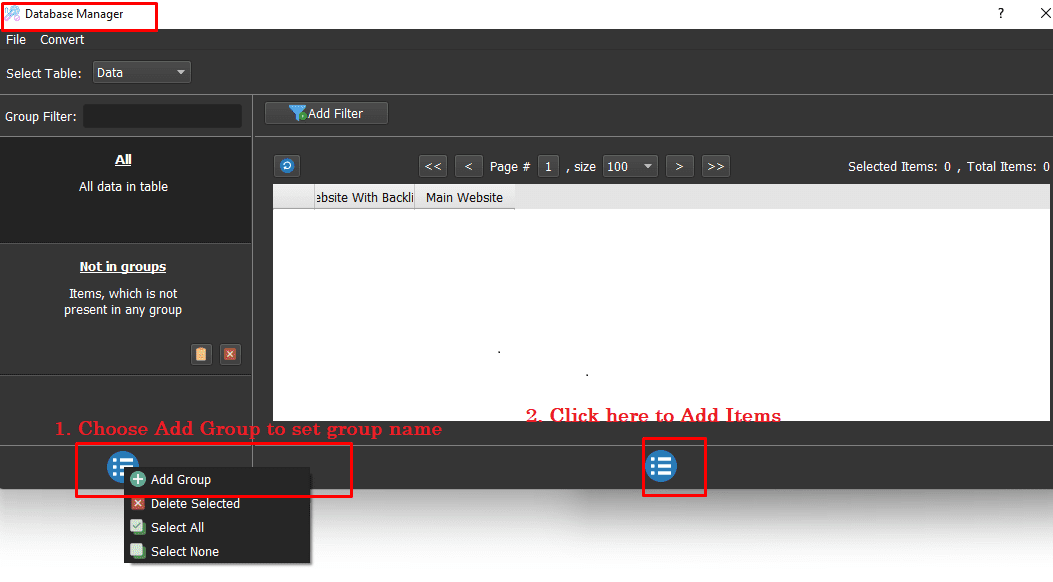 Subsequently, enter your main site and link of posts containing the main site. You can copy post links from any social media platforms such as: Facebook, Twitter, TikTok, Instagram, etc.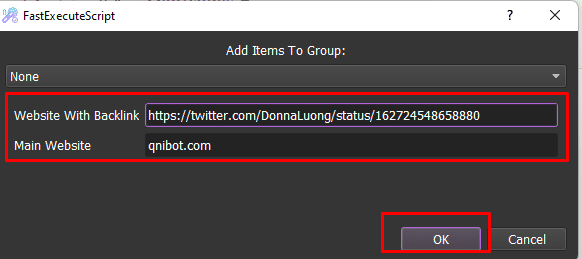 Or follow this instruction to enter more links automatically and manually. 
Finally, choose group of data at Input Data field:

7. Cookies Folder and Data Folder – Social Traffic Bot
Create a folder named cookies and then put the path on the bot as shown: 
The cookies folder stores login state and profiles of your accounts, so that the software does not have to re-login for the next time, then you should save this folder in a disk with the largest empty space.
Do the same as Data Folder. The folder will store collected results.
8. Useragent Desktop and Mobile – Social Traffic Bot
Download the Useragent (Desktop) file from the dowload link that is provided and then put the icon to add the file at Useragent (Desktop) field: 

If you wanna use Mobile useragents, then you add the Mobile file at Useragent (Mobile) field:

9. Key 2captcha.com
 Create an account at 2captcha.com, and then paste the API KEY on the bot at Key 2captcha.com field. 

10. Pause (Seconds)
If you set Pause (milliseconds) field as below, the bot will surf, move cursor on Backlink randomly from 60 to 90 seconds, then it will visit main website and continue to simulate real user by that time period.

11. Rent Cookies from Qnibot – Social Traffic Bot
We have Gmail Cookies to drive more traffic, you can refer to here for more information.
If you choose Yes, then you save the cookies file that is provided after placing an order and add it on the bot at Rented Cookies file field:

12. Set a schedule
If you choose Schedule Application to run the software as scheduled, then you folllow this instruction for more details.
Pring Tag of Social Traffic Bot
In the end, thank you for following the tutorial carefully.
For more information, kindly contact us at qnibot.com